Having a baby is one experience that will open your eyes to how pervasive materialism is in our culture. My husband and I need things for the baby and I need new clothes to accommodate my growing belly. However, as we shop, I sometimes begin confusing my genuine needs with wants.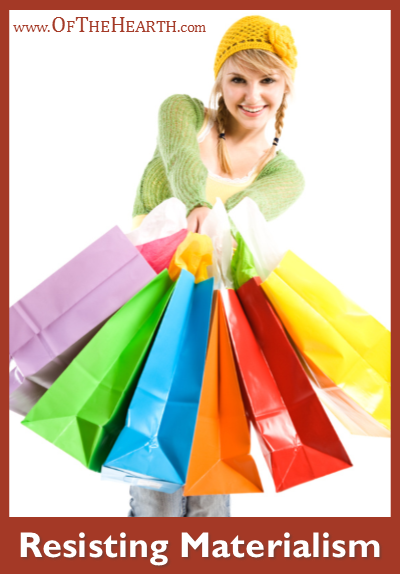 Materialism is a way of thinking that emphasizes material possessions over things of authentic importance, such as relationships and spiritual growth. The Bible clearly teaches that material possessions should not be our priority:
"Do not store up for yourselves treasures on earth, where moths and vermin destroy, and where thieves break in and steal. But store up for yourselves treasures in heaven, where moths and vermin do not destroy, and where thieves do not break in and steal. For where your treasure is, there your heart will be also." Matthew 6:19-21
Though I've read this verse (and others like it) dozens of times, I still find myself feeling tempted to "keep up with the Joneses." I'm confronting this head on so I don't make purchases that I shouldn't. Here are steps I'm taking to resist materialism.
Ways to resist materialism
Remember what is important.

I don't resist materialism just to be ascetic or deny myself. I don't even do it just to be frugal. Material possessions aren't that important when you consider the big picture of life. My life does not consist of the abundance of my possessions (Luke 12:15) and it does not profit me to gain the whole world if I forfeit my soul (Matthew 16:26). Ultimately, what is important is loving God and loving people (Matthew 22:36-40).

Be wary of trends.

I remember wearing stirrup pants, oversized tops, and neon colors back in the 80s and early 90s and thinking they were cool. I don't think they are very cool now. That's because these were trends. Trends, by definition, come and go. Whether buying clothes, appliances, home décor items, a vehicle, or anything else, it's much more important to focus on quality and utility than what's hip and cool.

Refuse to rationalize.

While shopping for baby things, I've come across some incredibly expensive items. When I see a stroller that costs $1,000, it becomes easy for me to rationalize the purchase of a $300 stroller or even a $600 stroller. After all, a $600 stroller is much more frugal than a $1,000 one, right? In reality, though, if a $100 stroller meets my needs, then that's the one I should purchase. I can easily justify almost any purchase by thinking about how it will save me time or money, how it will help me serve others, how I'll get years of use out of it, etc. Carefully avoid rationalizing or you'll talk yourself into all sorts of purchases!

Make lists and stick to them.

Shopping off of a list can help reduce impulse buys. This is true whether you're grocery shopping, shopping for furnishings for a new home, or procuring items for a new baby. When a list gets really long, it motivates me to scrutinize each item on the list to determine if I really need it or not. The key, of course, is sticking to the list when making purchases.
Do you ever struggle with the desire for more possessions? What things do you do to resist materialism?
Shared on the following link-ups: