Don't you just love road trips—the miles of open road, beautiful scenery, and roadside curiosities to explore during stops? Well, at least that's how it was before becoming the parent of an infant! Now the list goes something like this: a screaming baby in the backseat, a poopsplosion all over the car seat, and stressed out parents.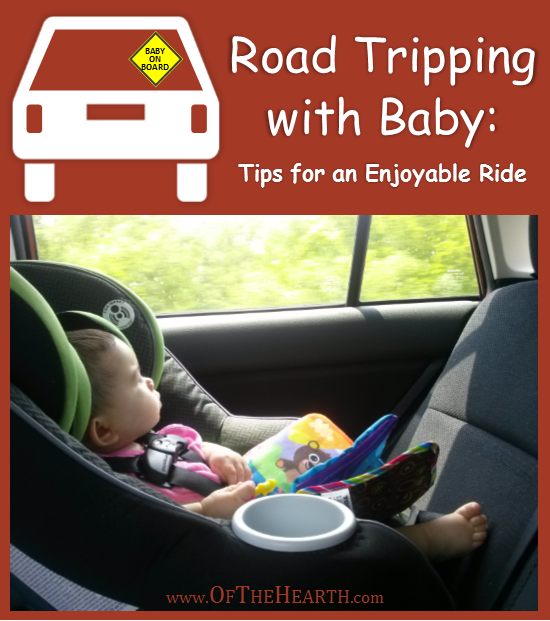 Though car travel with an infant does pose some challenges, it doesn't have to reflect this latter scenario. With a little planning and creativity, you can have an enjoyable road trip. Here are the strategies we used that helped us have an enjoyable ride with our baby.
Tips for taking a road trip with baby
Plan ahead
If you need to arrive at your destination at a particular time, then you'll want to carefully determine when to leave. Assume you will experience delays related to things such as feedings or diaper changes. Add an hour or even two hours onto the amount of time the trip would take you under normal circumstances to accommodate these delays.
Another factor to consider is how your baby handles car rides. If he or she likes to sleep while riding, then consider leaving before a nap or before bedtime so your little one can sleep for part of the journey. If he or she tends to be alert and likes to look around, then consider leaving after nap or in the early morning.
Provide entertainment
Pack several small toys for baby. It's great to have a few different types of toys (e.g., stuffed toys, books, rattles) because babies lose interest easily. We found it particularly beneficial to introduce a couple of brand new toys to our daughter. A cloth book, fascination station, and various teething toys were big hits with her.
If there are at least two adults in the car, it is a good idea for one to sit in the backseat for part of the trip in order to help entertain baby. An older child can also help with this. The adult can hand toys to baby, as well as read books to baby, sing songs, and do finger plays.
If there is only one adult, then consider getting a Baby In-Sight mirror so you can see your little one. You will have to get creative to make sure your baby can reach his or her toys. Try using links to secure toys within reach, get a portable toy bar that attaches to car seats, or place toys in your baby's cup holder (if his or her car seat comes with one).
Mitigate messes
If you have a baby, then you know that messes are inevitable. Unfortunately, when traveling, they can cause lengthy delays. A leaky diaper can be particularly challenging because of the difficulty of washing and drying the car seat cover. An easy way to avoid the need for this cleanup is to place a prefold diaper or disposable absorbent pad under baby. (You don't want to place anything bulky under baby because this can become compressed during an accident in such a way that the straps over baby are no longer snug. A thin item; however, will not cause this problem.) You'll also want to keep burp rags and wipes easily accessible in case you need to address other messes.
You may find yourself in a challenging situation even if you stop to change your baby before a diaper leak occurs. This is because the restrooms in many gas stations and restaurants lack changing tables. Click here for tips on how to change baby when no changing table is available.
Make frequent stops
Though it may not be convenient, it's really beneficial to make frequent stops (this is good for you, not just for your baby). Plan to stop at least every two hours to get baby out of the car seat for a diaper change and a feeding. All babies will benefit from a change of position and a little movement while you are stopped. One way to do this is by taking baby for quick walk in a carrier or stroller. Older babies will appreciate a chance to spread out on a blanket and roll around or crawl a bit.
Foster familiarity
If your baby has certain items that make him or her feel comfortable (e.g., a stuffed toy, a blanket, a specific pacifier), then be certain to bring these items with you on the road. They can go a long way in soothing an infant when he or she gets confused about what is going on or gets frustrated after sitting in one place for so long! Likewise, if you typically create a special sleep environment for baby (e.g., white noise, lullabies, darkness), try your best to recreate this in the car. Though it is challenging, you can also try to keep your daily schedule (if you have one) while on the road.
Always consider safety
Before you leave, make sure baby's car seat is properly installed. If you'll be traveling during the day, consider installing window shades to protect your little one from the sun. Hopefully you will not need this, but it is always wise to carry your pediatrician's contact information and baby's pertinent medical information in case you need to stop along the way for medical care.
Final thoughts
With these strategies and some extra snuggles to soothe the stress of new settings and activities, you can have a great road trip!
Have you taken a road trip with a baby? What things did you do to make the trip go smoothly?
Shared on the following link-ups:
Think Tank Thursday, Thriving on Thursday, The Not Just Homemaking Party, Coffee and Conversation, One Project at a Time, Teach Me Tuesday, Frugal Crafty Home, Inspiration Spotlight & Shine Blog Hop.
Save
Save
Save
Save