I love one-pot recipes! These are one of my favorite ways to streamline meal preparation so I save a little time in the kitchen.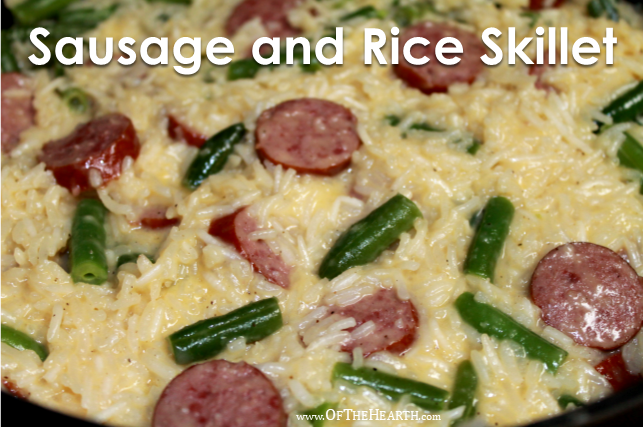 When it comes to meat, my family primarily eats chicken and ground turkey. I wanted to add something a little different to our menu, so I was excited when I came across a sausage and rice recipe that I could easily modify into a one-skillet recipe. The subsequent Sausage and Rice Skillet was flavorful, filling, and super easy to prepare.
Ingredients
(Adapted from this recipe.)
2 tablespoons butter
12-14 oz. smoked sausage, sliced
3 cups chicken broth
1 ½ cups basmati rice
1 teaspoon garlic powder
1 teaspoon onion powder
Several dashes salt and pepper
2 cups frozen vegetable (broccoli, carrots, and green beans are good options)
1 cup shredded cheddar cheese
Instructions
Heat a large skillet over medium-high heat. Melt the butter in the skillet. Add the smoked sausage and cook for about 5 minutes.
Add the chicken broth, basmati rice, garlic powder, onion powder, salt, and pepper. Increase the heat slightly and bring the mixture to a boil. Cover and reduce the heat to low. Simmer for 5 minutes.
Stir in the frozen vegetable, cover, and simmer for 10 minutes or until the rice and vegetable are tender. Turn off the heat. Add the shredded cheese and stir until it has melted. Yield: 4 servings.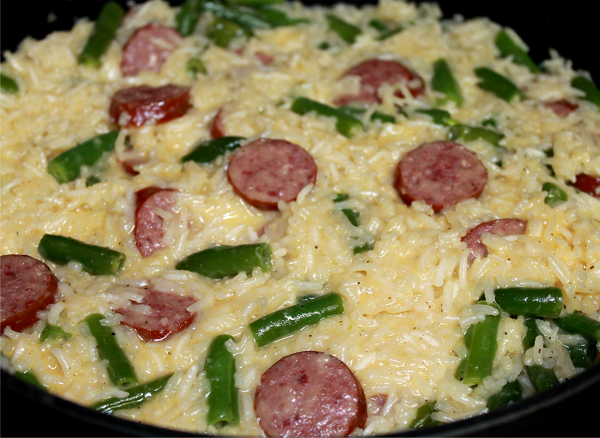 Notes
As you can see, it doesn't take a lot of time or effort to prepare this dish. Cleanup is also easy. The whole family—including my 3-year-old and 18-month-old—enjoyed its savory flavor.
We like to use green beans in it, but other vegetables like broccoli and carrots also work well. If you'd like to sneak in some additional nutrients, toss in some riced cauliflower when you add your other veggie. I've done this before and we can't tell that the cauliflower is in it! If you'd like, you can add other spices or use other varieties of cheese in order to customize it to your family's taste preferences.
What one-pot recipes are you making this winter?
Shared at the following:
Whisk It Wednesday, Encouraging Hearts and Home, Thoughtful Thursday, The Handmade Hangout, Awesome Life Friday, Friday Frivolity, Weekend Potluck, Share It One More Time, Sundays at Home, Busy Monday, What's For Dinner? and Homemaking Linkup.