Things are about to get really busy in my home. We're moving across the country because my husband has accepted an amazing new job! We are thrilled about this, but it means we have a lot to get done in a relatively short amount of time.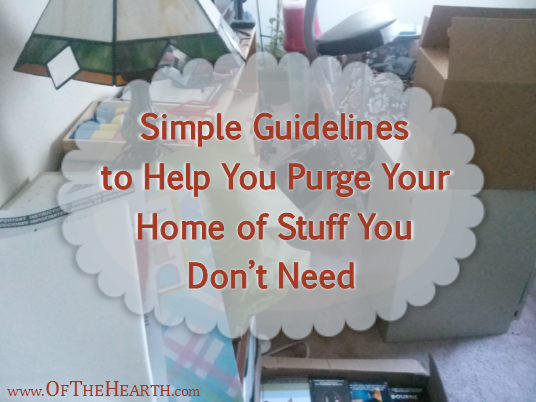 We don't want to move with unnecessary stuff and we need to get our current home listed and ready to show to potential buyers. Subsequently, one of our first tasks is decluttering and getting rid of things we don't need. I've come up with a few guidelines to help us as we purge our home of unneeded possessions. Hopefully these guidelines will help you next time you undertake a similar task.
Guidelines for getting rid of stuff you don't need
Use it or lose it.

When was the last time you used a given item? With the exception of items that are only used seasonally (like Christmas decorations or snow boots), you probably don't need an item if you haven't used it in a year. I've thinned out my wardrobe and dishes quite a bit by using this guideline!

Send guilt trips packing.

Sometimes loved ones give me items that I don't want and/or need. I feel obligated to keep these items because they were given to me by someone important. Likewise, I feel obligated to keep items that were given to me by loved ones who have passed away. After all, these are the only tangible things I have left of them. In reality, I shouldn't feel guilty about getting rid of these items and neither should you. They are just things. What we do with these items does not reflect our love for the individuals who gave them to us.

Chuck the junk.

Some items in our homes are just junk. The pens in the junk drawer that barely write. Those shoes that don't fit but are so nice that you don't want to part with them. The accumulation of toys that came with kid's meals at fast food restaurants. Many of these items were useful and appreciated at one time, but this is no longer the case. Figure out how to best dispose of them and do it.

Break up with broken items.

Do you have any broken items in your home? I'd like to say that I don't, but I know my husband and I have a boom box with a defective CD player and a waffle iron that doesn't work. Why do we still have these? I initially thought that we would try to fix them, but once several months passed and we made no attempt to do so, we should have passed them along to someone who would fix them or we should have tossed them out. If you have broken items in your home, consider if it's time to say goodbye.

Evict expired items.

Some items, such as medications and most foods, have specific expiration dates. If you have expired items in your pantry or medicine cabinets, then get rid of them. If you have items that don't technically expire but are still outdated, then consider getting rid of these, too. We've gotten rid of many of these items including textbooks with out-of-date information and baby items that do not meet the most current safety standards.

Stop seeing double.

If you have multiple versions of the same item or several items that serve the same purpose, then consider getting rid of some of these. How many pairs of flip-flops do I really need? Do I actually need a stand mixer and a hand mixer? Do I need four cookbooks dedicated solely to cookie recipes? Depending on your situation, it might be beneficial to hang onto a redundant item or two, but most should probably be passed along to someone who really has need for them.

Say "so long" to items with fading sentimental value.

It's hard to let go of items that have sentimental value. Whether it's a ticket stub from your first date with your spouse or your baby's first pair of shoes, these items serve no practical purpose, but they mean so much to us. Over time, we tend to loosen our grip on many of these items. When this happens, let them go! Also, consider if any of these items can be preserved in a way that doesn't take up space. Can you scan your children's artwork into a computer so you can still see the drawings and paintings but you don't have large stacks of paper to move around? Can you take pictures of important items so you can look at them when you miss them? Can you make a quilt of your kids' baby clothes instead of keeping several tubs of outgrown clothing in storage? Strategies like these can help you preserve your memories without being overtaken by impractical items that have to be stored.
As we use these specific guidelines when sorting through our stuff, I try to keep this general principle in mind: In view of eternity, our possessions are so insignificant.
"Then he said to them, 'Watch out! Be on your guard against all kinds of greed; life does not consist in an abundance of possessions.'" Luke 12:15
"'Do not store up for yourselves treasures on earth, where moths and vermin destroy, and where thieves break in and steal. But store up for yourselves treasures in heaven, where moths and vermin do not destroy, and where thieves do not break in and steal. For where your treasure is, there your heart will be also.'" Matthew 6:19-21
What guidelines did I miss? How do you decide what to get rid of and what to keep when you declutter?
Shared on the following link-ups:
Think Tank Thursday, Coffee and Conversation, WholeHearted Wednesday, Titus 2sday, One Project at a Time, Titus 2 Tuesday, Monday's Musings and The Art of Home-Making.