One really interesting thing that has been happening since my husband started pinning meal ideas on Pinterest is that he'll select some options that include ingredients he doesn't usually eat. This recipe is an example.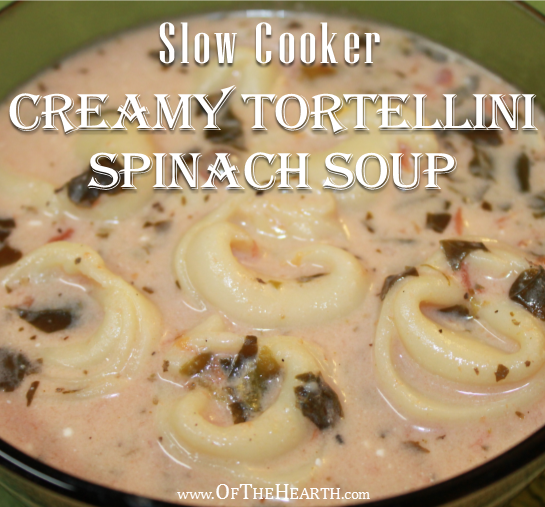 My husband hates spinach, but he saw this recipe and it looked good to him (plus he knows I love slow cooker recipes) so he pinned it. I was surprised and somewhat doubtful he would actually eat it. I'm so glad I took the chance and tried it! It is so easy to make and has a wonderful flavor. My toddler and, yes, even my spinach-hating husband agree!
Ingredients
(Adapted from this recipe.)
1 package (16-18 oz.) frozen cheese tortellini
1 package (12 oz.) frozen chopped spinach
1 large carton or can (26 oz.) diced tomatoes
6 cups chicken broth
1 package (8 oz.) cream cheese, cut into 1-inch cubes
2 teaspoons Italian seasoning
1 teaspoon garlic powder
1 teaspoon onion powder
Several dashes of salt and pepper
Instructions
Place all of the ingredients in a slow cooker. Cook on high for 3-4 hours, stirring occasionally. Yield: 5 servings.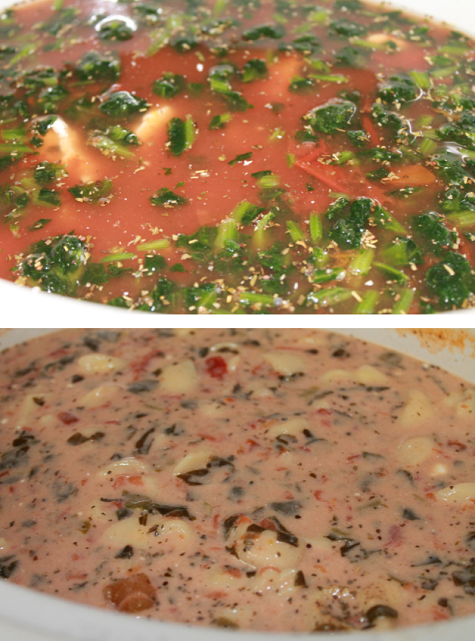 Notes
As you can see, this is about the easiest meal in the world to prepare! I love this about it. It also has a really great flavor. The cream cheese complements the tomatoes and seasonings very well. We can't really taste the spinach in it, which is good given my husband's dislike of it. I was uncertain about how the cream cheese would soften and integrate into the soup, but it did just fine.
The ingredients for this soup cost approximately $10.32, which means each serving costs about $2.06. This is reasonable given the convenience and flavor of the soup!
Do you appreciate the convenience of slow cooker meals? Would your family love the flavor of this one?
Shared at the following:
Coffee and Conversation, Think Tank Thursday, Blogger Spotlight, Frugal Mommas Home and Garden Linky, Weekend Potluck, Share the Wealth, What's for Dinner?, Over the Moon, The Creative Gallery, Party in Your PJs, and Healthy Living.
Save
Save
Save
Save
Save
Save
Save
Save
Save
Save
Save
Save
Save
Save