I had the ladies from my small group Bible study over a few weeks ago. I wanted to make dessert for us, but I didn't want to run to the store to grab any ingredients and I was pressed for time. Given the slow cooker is a helpful option in situations where time is short, I decided to use mine to prepare a dessert. I had all of the ingredients needed to prepare this Slow Cooker Gingerbread Cake, so I gave it a try!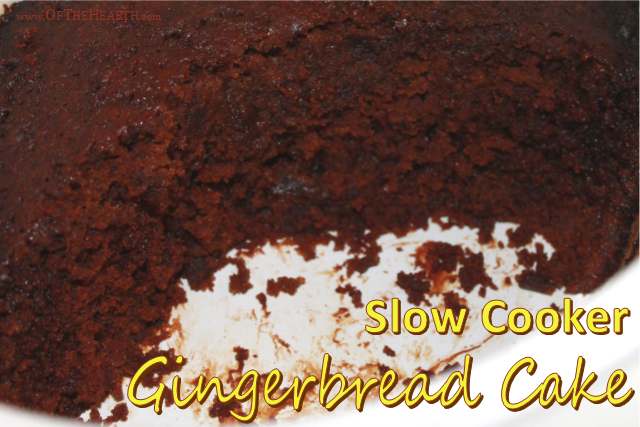 It turned out so well! We loved its rich, spicy-sweet flavor and the wonderful scent that filled my house while it was "baking."
Ingredients
(Adapted from this recipe.)
1 cup molasses
2 cups water
1/2 cup butter, softened
1 cup granulated sugar
2 eggs
1 teaspoon vanilla extract
2 ½ cups all-purpose flour
1 ½ teaspoons baking soda
½ teaspoon salt
1 teaspoon ground cinnamon
1 teaspoon ground ginger
½ teaspoon ground allspice
½ teaspoon ground nutmeg
6 tablespoons brown sugar
½ cup hot water
4 tablespoons butter, melted
Whipped cream or vanilla ice cream, optional
Instructions
Mix the molasses and 2 cups water. Cream the softened butter and sugar until light and fluffy; beat in the eggs and vanilla. In another bowl, whisk together the flour, baking soda, salt and spices; add to the creamed mixture alternately with the molasses mixture, mixing well after each addition.
Pour into a greased 5- or 6-quart slow cooker. Sprinkle with the brown sugar. Mix the hot water and melted butter; pour over the batter (do not stir).
Cook, covered, on high until a toothpick inserted in the center comes out clean, about 2-2 ½ hours. Turn off the slow cooker; let stand 15 minutes. If desired, serve with whipped cream or vanilla ice cream. Yield: 16 servings.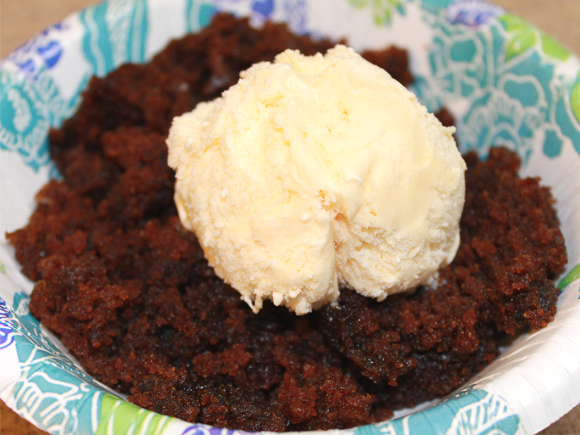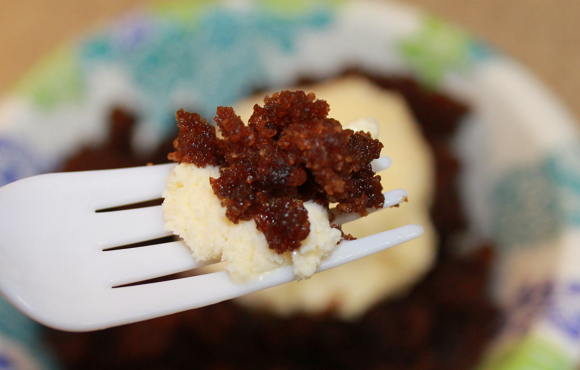 Notes
While preparing this, I didn't really know what to expect. The batter was so thin and watery, I was doubtful it would actually turn into a cake. It did, though. It wasn't a light, fluffy cake, but a dense, moist cake. It had the flavor of classic gingerbread—rich, slightly spicy, and slightly sweet.
I served the cake with vanilla ice cream. Though you can definitely eat the cake without this, we found that the mellow flavor of the vanilla ice cream was a perfect complement to the flavor of the gingerbread cake.
Have you ever made a dessert in your slow cooker? What did you make? How did it turn out?
Shared at the following:
Whisk It Wednesday, Encouraging Hearts and Home, Friday Frivolity, Awesome Life Friday, Weekend Potluck, Busy Monday, Over the Moon, Share It One More Time, and Homemaking Linkup.