It's hard to go wrong with quiche. Perhaps it's that a quiche is essentially a meal in a dish or that quiches typically contain cheese. Whatever the reason, they're wonderful. I've recently added this one to my list of favorites.
Ingredients
(From the Favorite Brand Name One-Dish Recipes cookbook.)
3 (8-9 inch) flour tortillas
2 tablespoons butter, melted
1 ½ cups shredded cheddar cheese
1 ½ cups diced ham
½ cup sour cream
¼ cup salsa
3 eggs, beaten
Instructions
Heat oven to 350°F. Cut 2 tortillas in half. Place the remaining whole tortilla in the bottom of a greased 9-inch pie plate. Brush with the melted butter. Arrange the tortilla halves around the edge of the pie plate, rounded sides up, overlapping to form a pastry shell. Brush with the remaining butter. Set a round cake pan inside of the pie plate on top of the tortillas. Bake for 5 minutes. Cool; remove the cake pan.
In a bowl, combine the cheese and ham. Stir in the sour cream, salsa, and beaten eggs. Pour into the tortilla shell. Bake for 55-60 minutes or until a knife inserted into the center comes out clean. Let stand for 5 minutes before serving. Yield: 5 servings.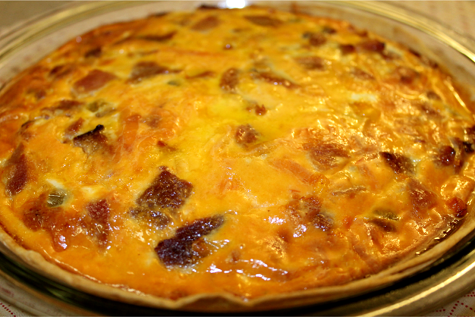 Notes
Like other quiches, this one is great for breakfast, lunch, or dinner. The taste of ham and cheese predominate, so it's a familiar, comforting flavor. If you want to really emphasize the southwest aspect of it, then you may want to add something like green chilies or pepper jack cheese. Personally, I don't think the tortilla pastry shell adds anything to the dish, so I've also made it in a regular pie shell and it's just as great.
The ingredients for this quiche cost approximately $5.05, which is just $1.01 per serving. When we eat it for dinner, we serve it with a veggie on the side. This increases the cost to about $1.18 per serving. The price and the flavor are great, so try this quiche soon!
What's your favorite flavor of quiche?
Shared at the following link parties:
Coffee and Conversation, Creativity Unleashed, Inspiration Spotlight, Weekend Potluck, Small Victories Sunday, Making Your Home Sing, Creative Gallery, The Art of Home-Making, Tuesdays with a Twist, What's for Dinner? and Think Tank Thursday.
Save