The warm spring weather is on its way in, so we're starting a new menu!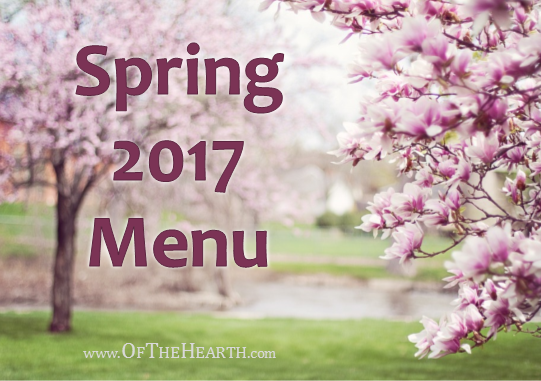 I won't delve into the details of my menu planning process here because I've described these in a previous post. In summary, I plan a new menu that contains a month's worth of meals at the beginning of each season (spring, summer, fall, and winter). We use each of these for the three months of that respective season before beginning the next season's menu. (Click here to view all of my menus from the last few years.)
As you'll see, I only plan dinners on our menus. We generally eat leftovers with a side of fruit for lunch. I do my best to include at least one meatless entree each week in order to save us a bit of money on groceries. For breakfasts, we generally eat oatmeal, breakfast sandwiches, or scrambled eggs and toast.
Here are the yummy dinners we'll be eating this spring.
Week 1
Burritos, corn
Slow cooker bourbon chicken over rice, carrots
Taco salad
Chicken wraps, peas
Alfredo penne, green beans
Cheesy pico de gallo chicken over rice, carrots
Chili
Week 2
Week 3
Cheeseburger quesadillas, carrots
Herbed chicken and rice, green beans
Sloppy joe pie, peas
Cheese tortellini with marinara sauce, green beans
Honey garlic chicken breasts over rice, carrots
Mexican rice bake
Alfredo chicken and broccoli shells
Week 4
Sloppy joe macaroni and cheese, green beans
Shepherd's pie, mixed veggies
Grilled cheese sandwiches and tomato soup
Creamy beefy noodles, green beans
Cheeseburger sliders, peas
Meat marinara over spaghetti, green beans
Open
Over the next few weeks I'll share recipes for a couple of the new dishes on this menu. What will you be serving your family this spring? What new recipes are you eager to try?
Shared at the following:
Fanday Friday, The Creative Gallery, Tuesdays with a Twist, and What's for Dinner?
Save
Save
Save
Save
Save
Save
Save
Save
Save