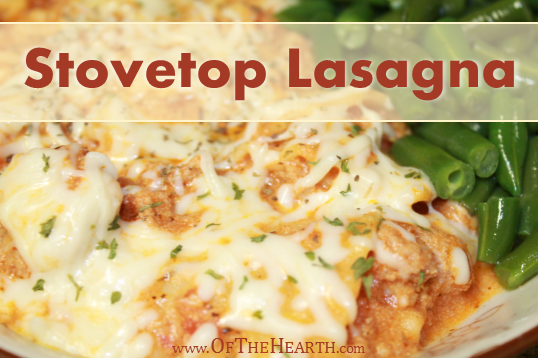 It's always frustrating when I have a box of lasagna noodles that contains broken pieces of pasta—these don't work very well in traditional lasagna. It recently occurred to me that I could use these to make "lasagna" on the stovetop. This dish has a flavor similar to that of traditional lasagna, but it is much easier to prepare!
Ingredients
1 pound ground meat (I used turkey)
1 medium onion, chopped
2 cloves garlic, minced
1 cup tomato sauce
1 cup diced tomatoes
1 1/2 cups water
6 broken lasagna noodles or 2 cups mafalda
1 teaspoon Italian seasoning
6 ounces ricotta cheese
2/3 cup shredded mozzarella cheese
Instructions
Place the meat, onion, and garlic in a Dutch oven over medium-high heat. Cook for about 7 minutes or until the meat is brown, stirring occasionally. Drain if needed.
Stir in the remaining ingredients except the cheeses. Heat to boiling, stirring occasionally. Cover and reduce the heat to low. Simmer for 12 minutes or until the pasta is tender. Stir in the ricotta cheese and sprinkle with the mozzarella cheese. Allow the mozzarella cheese to melt before serving. Yield: 4 servings.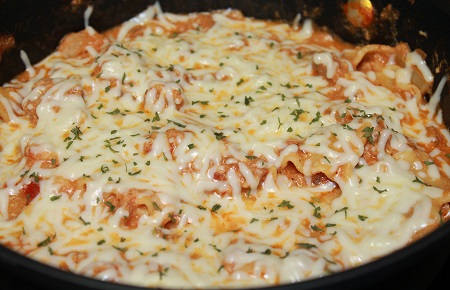 Notes
This dish was a big hit with my husband and daughter! I liked the flavor, too, but I was most pleased with the fact that it was a one-pot dish—it was a breeze to prepare and clean up! If you don't have lasagna or mafalda on hand, then feel free to use other forms of pasta. It would also be tasty with other cheeses (e.g., provolone, cheddar).
The ingredients for this dish cost approximately $7.48, which is just $1.87 per serving. We served it with a vegetable on the side, which brings the cost to $2.02 per serving. Next time you need an easy-to-prepare dinner, give this tasty dish a try!
What do you think? Is Stovetop Lasagna a decent substitute for the real thing?
Shared on the following link-ups:
Home and Garden Thursday, Teach Me Tuesday, Frugal Crafty Home, Motivation Monday, Blog Fair, Making Your Home Sing, Saturday Soiree, Weekend Wind Down, Weekend Potluck and Inspiration Spotlight.