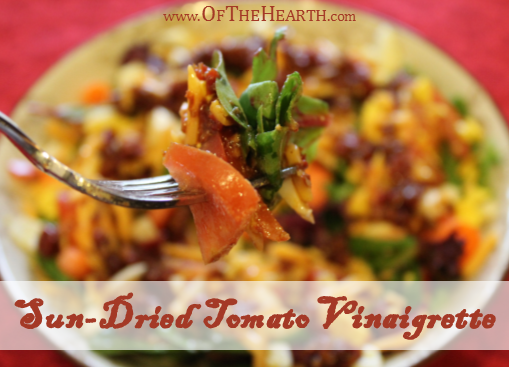 I love salad dressings. In fact, they're probably my favorite part of salads! Unfortunately, many commercially available varieties are laden with corn syrup, hydrogenated oils, and other ingredients that my family tries to avoid. Because of this, I've been trying to prepare some at home. I've been impressed with their flavors and how easy they are to prepare. One of my favorites, which I use in a couple of dishes on my spring menu, is a sun-dried tomato vinaigrette.
Ingredients
(Adapted from this recipe.)
1/4 cup oil-packed sun-dried tomatoes, drained
1/2 cup water
2 tablespoons balsamic vinegar
1 teaspoon lemon juice
1 teaspoon minced garlic
1 teaspoon dried oregano
1 teaspoon onion powder
1/2 teaspoon sugar
Dash of salt & pepper
1/3 cup extra virgin olive oil
Instructions
Rinse the sun-dried tomatoes and pat them dry. Chop finely and place in a small bowl. Add the water, vinegar, lemon juice, garlic, oregano, onion powder, sugar, salt, and pepper. Whisk to combine.
Drizzle the oil into the mixture while whisking constantly. Yield: 1 cup. Can be refrigerated in an airtight container for up to 1 week.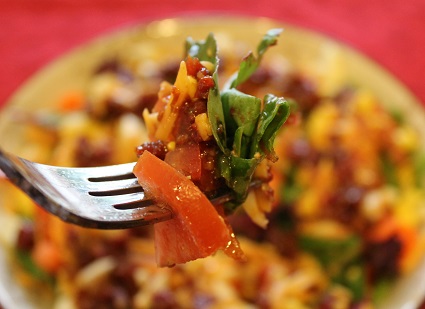 Notes
I love the sweet and tangy flavor of this dressing. It adds a little pizzazz to an otherwise simple salad and also works great as a marinade. As with many dressings, the heavier components will settle as it sits, so be sure to give it a good stir or shake before using it.
Do you make salad dressings at home? Which is your favorite to make?
Shared on the following link-ups:
Weekend Potluck, Creativity Unleashed, Thrifty Thursday, Whatever Goes Wednesday, Works for Me Wednesday & One Project at a Time.