Heat and humidity are uncomfortable for most people, but they can be especially burdensome for women who are pregnant.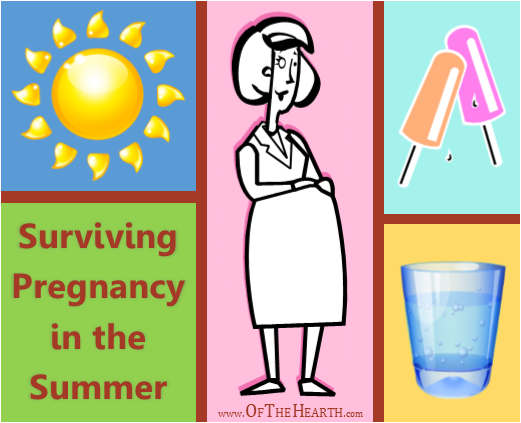 Fortunately, I've found that the unpleasant effects of the heat and humidity can be mitigated by several simple strategies. Whether you're pregnant or not, these strategies can help you beat the heat this summer.
How to survive a summer pregnancy
Drink lots of water.

Everyone has greater water needs in the heat, but it is especially important for women to drink sufficient water during pregnancy. Staying hydrated helps prevent water retention and swollen extremities, wards off bladder infections, and prevents dehydration-triggered uterine contractions. Caffeine-free teas and 100% fruit juices can help meet your fluid needs, but experts recommend that water be the main beverage consumed. Current recommendations are for pregnant women to consume at least 10 cups of water and other healthy fluids each day.

Indulge in cold treats.

Healthy, cold treats can help you feel cooler while also helping you consume adequate fluids and get key nutrients. My favorites include smoothies, fruit popsicles, and chilled watermelon or berries.

Dress appropriately.

Loose-fitting, light-colored clothing made of natural fabrics like cotton or linen allow the body to cool. Sundresses and peasant-style skirts are great options to leave you looking and feeling cool.

Be careful outdoors.

It's great to get outdoors and get some fresh air, but the heat calls for caution. If you're going to exercise or complete strenuous work while outdoors, then try to do it during the morning or late evening. If you'll be picnicking or at a BBQ, then be careful when eating foods like potato salad and coleslaw that, when left out, can cause foodborne illness. Whatever you'll be doing, be sure to wear sunscreen to guard against melasma (dark splotching of the skin). Women are more prone to this during pregnancy due to hormonal changes.

Use water for an instant cool-down.

Apply a cold cloth to the nape of your neck or your arms. Take short showers in cool water throughout the day. Get misted by the sprinklers when your kids play in them in your yard. Go for a swim. Any of these strategies will help you keep cool.

Travel carefully.

If you'll be going on a vacation, then you'll need to make plans to be able to walk frequently while en route to your destination. This will mean moving about the cabin if traveling by air. If you travel by car like my husband and I did earlier this summer, you'll want to stop at rest stops to take short walks. Though it may not be convenient to use the bathroom frequently, it's critical to drink lots of water so you stay hydrated. Also, keep dietary recommendations in mind as you eat at unfamiliar locations.
These strategies have helped me have a pretty pleasant summer pregnancy. What strategies can you add?
Shared on the following link-ups:
Summer Family Fun, Essential Fridays, Thrive @ Home, Thriving Thursday, WholeHearted Wednesday, Wise Woman, Titus 2sday & Monday's Musings.