Are you in a situation where you need hope? I won't even speculate if your answer is affirmative because we're all facing situations where we need it. Take heart! We're about to celebrate the birth of hope personified.
Hope is defined as "someone or something that may be able to provide help." Early in Jesus' ministry, long before his atoning death on the cross, he entered a synagogue in Nazareth and quietly proclaimed that he was the embodiment of hope—the one who is able to provide help. On that day he read from the scroll of the prophet Isaiah.
"The Spirit of the Lord is on me, because he has anointed me to proclaim good news to the poor. He has sent me to proclaim freedom for the prisoners and recovery of sight for the blind, to set the oppressed free, to proclaim the year of the Lord's favor." Then he rolled up the scroll, gave it back to the attendant and sat down. The eyes of everyone in the synagogue were fastened on him. He began by saying to them, "Today this scripture is fulfilled in your hearing." (Luke 4:18-21)
Though Jesus ended his reading there, the subsequent text of Isaiah 61 (the passage from which he read) further describes the outcomes of hope: beauty instead of ashes, gladness instead of mourning, and praise instead of despair. He remains our hope today.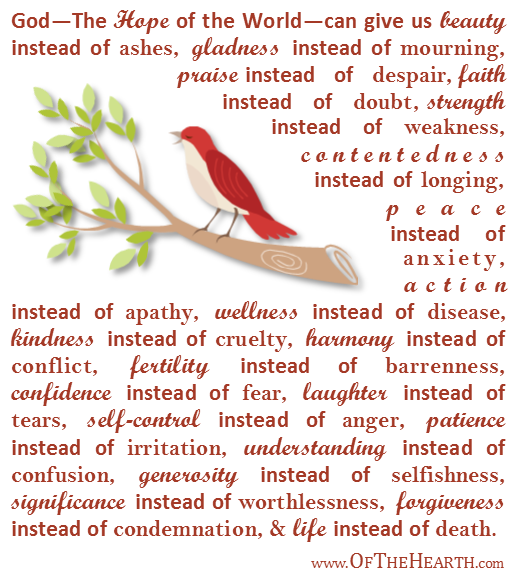 Hope isn't just someone who is able to provide help. It is also a "desire accompanied by expectation of or belief in fulfillment." This Christmas, let's place our hope (expectation of fulfillment) in hope incarnate (Jesus, the one who is able to help us).
I'm praying for you, friends. Let me know if there is something in particular about which you'd like prayer.
Shared on the following link-ups:
Thriving Thursday, Titus 2 Tuesday, Teach Me Tuesday, Making Your Home Sing & Living Proverbs 31.