I recently reread some advice that I was given shortly before my husband and I got married. At my wedding shower, several ladies who had been married anywhere from a couple of years to over 20 years gave me notecards on which they had documented marriage advice.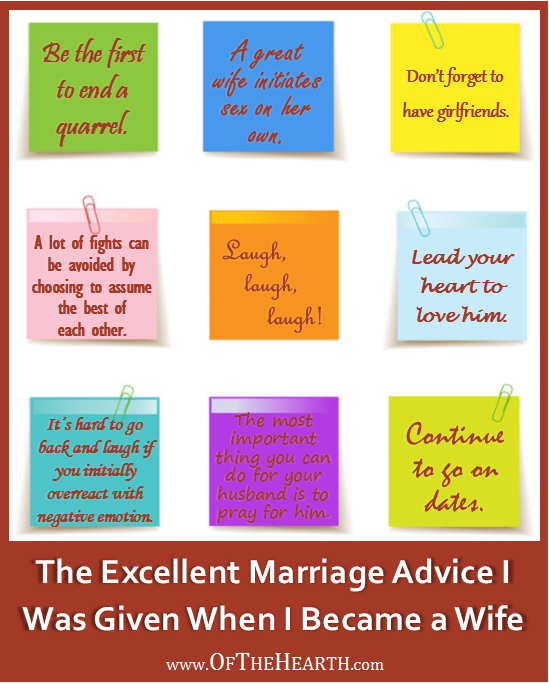 I thought the advice was great then, but I have an even greater appreciation for it now that I've been married for some time. Though none of these women were "marriage experts," they gave really sound advice! Whether you're about to get married or you've been married for decades, I hope you are inspired by these snippets of insight.
Great marriage advice
"The most important thing you can do for your husband is to pray for him every day. You will be amazed how much can be resolved in prayer without having to say a word to your spouse."
"Be the first to end a quarrel with an apology—a real apology."
"Don't forget to have girlfriends. Your husband cannot play that role."
"Laugh, laugh, laugh! Seriously, at the end of the day, a lot of fights can be avoided by choosing to assume the best of each other."
"Let him love you. No matter how big or small of a gesture, be appreciative of the love he is trying to show you."
"A good wife forgives her husband; a great wife forgives before he asks for it. A good wife gives her husband what she knows he needs; a great wife gives him what he thinks he needs. A good wife has sex with her husband; a great wife initiates sex on her own."
"Assume you are/have the problem (not that your husband is/has the problem). Consider that we are to die to ourselves."
"Let yourself laugh. You can always discuss things more seriously later, but it's hard to go back and laugh if you initially overreact with negative emotion."
"Once the wedding is over, the question 'Did I marry the right person?' isn't relevant anymore."
"Don't follow your heart. Lead your heart to love him."
Based on my experience, there are a few additional pieces of advice that are essential:
Pray together daily.
Don't complain about your husband to friends or family members. Bless him and maintain your respect for him by speaking highly of him instead.
Communicate your needs and expectations clearly because your husband can't read your mind.
Continue to go on dates.
No matter how busy you get, take time every day to look your husband in the eye, say "I love you," and reconnect for a moment.
What pieces of advice would you give a bride-to-be?
Shared on the following link-ups:
Saturday Soiree, Growing in Grace, Coffee and Conversation, Wedded Wednesday, WholeHearted Wednesday, Titus 2sday, Titus 2 Tuesday, Monday's Musings & The Art of Homemaking.