We've already discussed how the sounds and scents in a home contribute to its aura—the overall quality or feeling it emits. Today let's consider how the sights in a home, especially the way in which it is decorated, can positively influence its aura.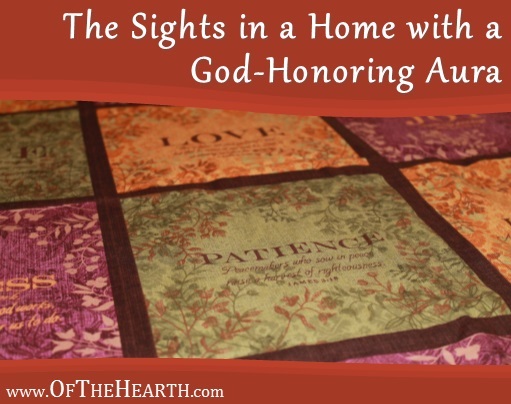 Though I don't believe there is one "right" way to decorate a home, I've always felt compelled to include Scripture verses in my décor. We do have some decorative items that don't include Bible verses. These items certainly don't draw our attention away from the Lord, but I do believe that the items that contain Scripture benefit my family as we seek to create a God-honoring aura in our home.
Benefits of decorating with Bible verses
It is a way to practically live out Deuteronomy 6:5-9

. Some scholars believe that the directive to post God's commands in our homes is figurative, but others believe it is quite literal. Regardless of which perspective is correct, posting Scripture in our homes is a practical way to support ourselves and our children in fearing the Lord and keeping His decrees.
"Love the Lord your God with all your heart and with all your soul and with all your strength. These commandments that I give you today are to be on your hearts. Impress them on your children. Talk about them when you sit at home and when you walk along the road, when you lie down and when you get up. Tie them as symbols on your hands and bind them on your foreheads. Write them on the doorframes of your houses and on your gates."
It helps us memorize Scripture

. When we read something over and over again, we begin committing it to memory. When Scripture verses are what we see and read, we begin hiding these words in our hearts (Psalm 119:11).

It helps us set our minds on things above

. Everyday life is often chaotic and filled with challenges. When we set Bible verses before our eyes it helps us to set our minds on things above (Colossians 3:2) and to think on things that are true, noble, right, pure, lovely, and admirable (Philippians 4:8).

It helps us share our faith with visitors

. The items we use to decorate our homes often become conversation pieces. When guests ask about items that contain Bible verses, it gives us natural opportunities to share about our faith.
Ideas for using Bible verses in your décor
There are so many ways to integrate Scripture into your décor and still express your personal style and creativity.
Wall hangings
Many years ago I asked my dad to carve the word "Ebenezer" into a piece of wood. I wanted to hang this on a wall in my home so I could have a constant reminder that thus far the Lord has helped me (1 Samuel 7:12). This simple piece of wood currently hangs in the dining room of my home.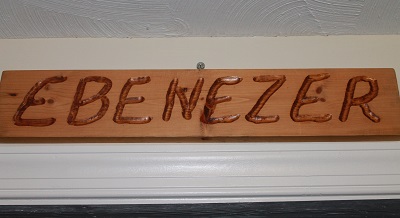 We also have a Joshua 24:15 plaque that hangs above our front door as a reminder of our commitment to serve the Lord as a household. We purchased this when it was 50% off at Hobby Lobby.

I don't yet have the vinyl wall art pictured below, but I've contemplated getting it and placing it on the wall that I first see when I wake in the morning. Sometimes I need some extra encouragement to get going and this just might fit the bill!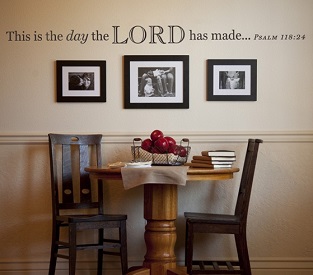 Another cool item I've been eyeing is this Lyrics for Life wall hanging that displays lyrics from my favorite hymn.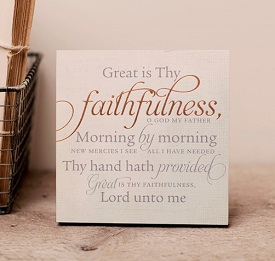 Curtains, blankets, and pillows
One of the first purchases my husband and I made for our current home was fabric with which I could make curtains. We didn't seek out Scripture-themed fabric, but when we came across some Fruit of the Spirit fabric at Hobby Lobby, we knew we'd found the perfect fabric for our living room curtains.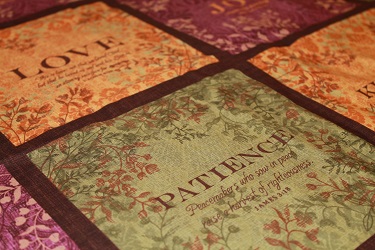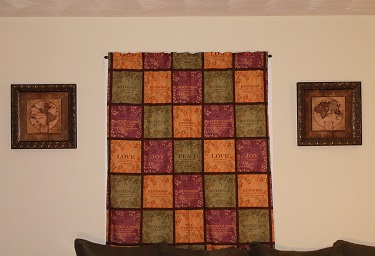 If you're not looking to make curtains but you are in need of a throw blanket, you could sew one from Scripture-themed fabric or purchase an inspirational blanket such as the Amazing Grace sheet music blanket pictured below. Isn't that neat?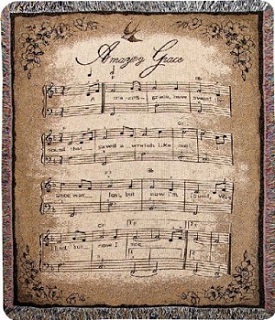 Throw pillows are another option. I love this cute one with the words of Ecclesiastes 4:9!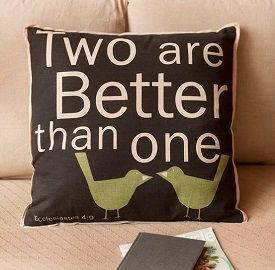 Dishes
If you use mugs with Scripture on them, it's like adding a little extra caffeine to your morning coffee, tea, or hot chocolate. I think the Numbers 6:24 teacup pictured below is super cute. Of course, my husband prefers more masculine varieties.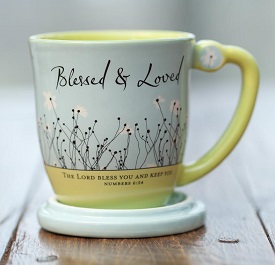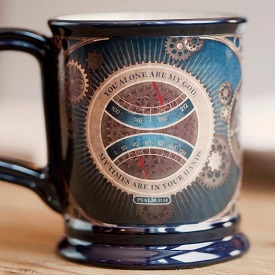 I don't currently have a cookie jar (we have so little counter space that there's no room for one). However, I plan to get one someday when I have a larger kitchen. Never had I imagined I could get one with a Scriptural message. Isn't this cookie jar cool? The back contains the words of Psalm 103:5 "He fills my life with good things!"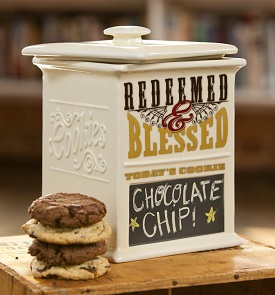 Clocks and accessories
Do you look at a clock often to check the time? I probably look at the clock in my living room at least a dozen times throughout a typical day! Why not get a dose of Scripture with each glance at the clock? I love the clock below that displays Psalm 46:10 "Be still and know that I am God." Isn't that an apt verse?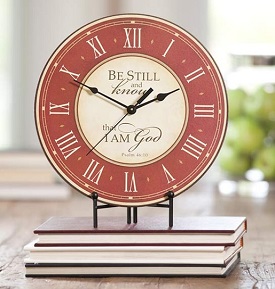 If you're a little more skilled in making crafts than I am, then you can likely make your own clock. Here's a handmade one from Amanda at Burlap & Babies.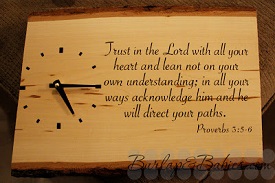 I'm hoping our current coasters will last a long time, but if it becomes necessary to replace them, I'm going to try to find some that contain Bible verses and inspirational messages like those below.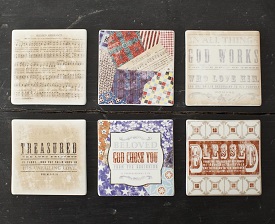 We've debated if we should hang a calendar on the wall of our dining room. I don't honestly know if we need one or not, but this one is so cute that it looks as fun as it is functional.
How do you integrate Scripture into your home décor? What benefits have you found to being surrounded by Bible verses?
This post contains affiliate links. See About the Blog on the menu for details.
Shared on the following link-ups:
Welcome Home Wednesday, Works for Me Wednesday, Growing Homemakers, Titus 2sday & Titus 2 Tuesday.