The expenses associated with moving to a new home can add up quickly. This is especially true of long-distance moves.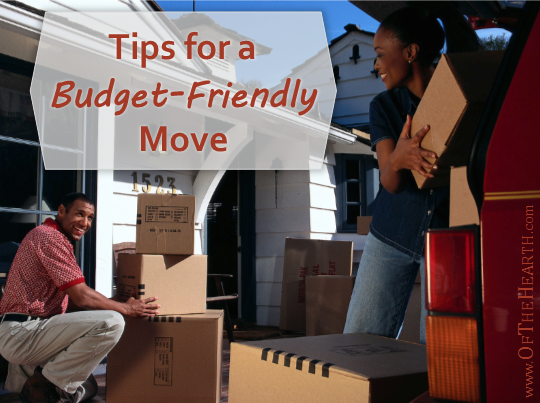 Though some expenses are unavoidable, others can be avoided or minimized with careful planning. Here are some of the frugal strategies my family is using as we move across the country this summer.
Strategies for a budget-friendly move
Make a budget for anticipated expenses
Take some time to document all of the components of your move and estimate how much each will cost you. This will help you cut down on surprise expenses and allows you to create a budget for your move. Sometimes this process even helps you see places where you can save a little money. If nothing else, compiling this information gives you a moving checklist that will reduce your stress!
Compare the costs of a DIY versus professional move
Unless you own a large vehicle and trailer with which you can transport your belongings, you have four basic options for moving your items: (1) a professional moving service, (2) a rented truck that you fill and drive yourself, (3) a storage container that you fill and have transported by a professional, or (4) less than truckload (LSL) shipping.
If you don't have a compelling reason to select one option without considering the others, then you'll want to do some comparisons. Regardless of your situation, it's likely that a professional moving service will cost you the most. However, the specifics of your move (how far you're moving, how much stuff you have, how long you have to make the move, etc.) may make one of the other options more economical than the others. Be sure to get quotes from numerous companies. Also, consider all of the expenses associated with the options. For example, moving trucks are often pretty inexpensive to rent, but if you're driving a long distance, you will pay a lot for gas because they get poor gas mileage.
Once you have your price estimates and have considered convenience and practicality, you can make an informed decision regarding which is best for you.
Get boxes and packing materials for free
There are tons of used (but still serviceable) boxes and packing materials available for free. Call or stop into local stores and ask if they'll set some aside for you. Many stores are happy to do this, especially if you are a regular customer. Grocery, book, and liquor stores often have large quantities of great boxes. You can also check with friends and neighbors who have moved recently and check the free section of craigslist. Also, don't forget to use your towels and clothes as packing materials. You have to move these anyway, so you might as well use them to help cushion fragile items.
Give away or sell unneeded stuff
There are a couple of reasons to declutter and get rid of unneeded possessions before a move. One significant reason is that it will cost you more to move if you have a lot of stuff. This is true regardless of which method you use to move (you'll have to pay professional movers more, you'll have to rent a second storage container, you'll have to rent a larger truck, etc.).
Another reason is that you can earn money by getting rid of things. By having a garage sale or selling things on eBay or craigslist, you can actually make money to help finance your move. If you donate items to qualifying charities, you can deduct the value of the items on your taxes.
Carefully plan your meals
As I noted above, the more stuff you move, the more it will cost you. Because of this, it's a good idea to avoid moving food items. Go through your fridge, freezer, and pantry so you can inventory what you have on hand, then plan meals that will use up these items. This also helps you avoid wasting perishable food items that are difficult to move.
Meal planning can also help you save money by preventing you from eating out too much. As your move nears, it's often easier to eat out or get take-out. This is costly, so if you can plan meals in advance (particularly meals that can be prepared quickly and with few dishes) then you can avoid spending a lot on food during your move.
Deduct relevant expenses on your taxes
If you are moving because of a change in your job or business location, then many of your moving expenses may be tax deductible (learn more from the IRS). Keep track of your expenses and keep your receipts so you can benefit from this.
Have you saved money on a move before? How did you do this?
Shared on the following link-ups:
Think Tank Thursday, The Art of Home-Making, Frugal Crafty Home, Making Your Home Sing, Motivation Monday, Saturday Soiree, Weekend Wind Down and Shine Blog Hop.