Tummy time—time spent on their bellies instead of on their backs—can be a trial for many babies. When it's tough on them, it's also tough on their parents and other caregivers.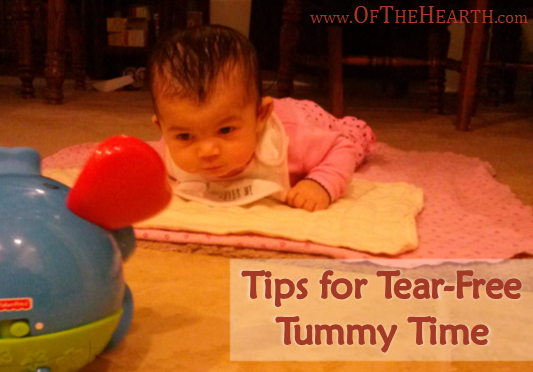 My daughter, Amaris, used to cry during tummy time. I began experimenting with our approach and searching for ideas on how to make it more tolerable. Fortunately, we found some things that work! If your little one struggles to enjoy tummy time, then you may benefit from the following ideas.
How to make tummy time more enjoyable
Use a bolster to support baby.

Initially, when she was still pretty little, I would roll up a towel or receiving blanket and position her with her arms over the roll and her hands reaching out in front of her. Now that she is older, we often use a Boppy Pillow for this. Sometimes I'll use the lower part of my leg as a bolster. This can be particularly effective because she loves being close to me. Supporting a baby like this helps her see in front of her more easily when she holds up her head.

Use toys and activities to distract baby.

During the early weeks, mom and dad were the best distraction. We'd get down on the floor with our little one to talk to her, sing to her, and make funny faces. Now that she's older, toys distract her. The best toys seem to be a baby-safe mirror, colorful rattles that can be grasped, and plush toys that make sounds. If you have the money to spend on one and the room to store it, you can always purchase a special tummy time mat.

Position baby on you.

Experts define tummy time as any activity that keeps a baby from lying flat in one position (source). This means that you can hold your baby during tummy time! You can lie on your back and hold your baby on your chest so he is facing you (this was Amaris' favorite) or you can place him on his tummy across your lap.

Integrate tummy time into daily activities.

Tummy time can be worked into daily activities, especially bath time and diaper changes. I often place Amaris on her belly during diaper changes to give her some diaper-free time. If you try this, be sure to place baby on a towel or cloth diaper on the floor (so she can't fall off the changing table and your floor is protected in case she goes potty). This habit has really helped in preventing diaper rash! Sometimes I also turn her onto her belly as I dry her off after baths.

Avoid tummy time when baby just ate or is tired.

If your baby just nursed or had a bottle, then having tummy time is an invitation to get spit up all over. It's best to wait until most of the milk has been digested. Personally, I wait until it's been at least an hour since she nursed to put my girl on her tummy. Fatigue will often make babies fussy, so it's also a good idea to reserve tummy time for times when your little one is wide awake. Immediately after nap often works best for us.
Whatever your approach, continue to do tummy time. It is important because it helps babies develop the muscles in their necks and shoulders, prevents tight or shortened neck muscles (torticollis), reduces the development of flat areas on the backs of their heads (plagiocephaly), and helps build the muscles they need to roll, sit, and crawl. Always supervise tummy time to make sure your little one stays awake and doesn't get his or her face trapped against a blanket or pillow. For more on tummy time, see this handout from Children's Healthcare of Atlanta.
Do you have a tip for making tummy time more tolerable? Please share it in the comments section below.
This post contains affiliate links. See About the Blog on the menu for details.
Shared on the following link-ups:
From House to Home, Growing in Grace, Titus 2sday, One Project at a Time, Titus 2 Tuesday, Living Proverbs 31 & Monday's Musings.