Cyber Monday (which is today) is much more my speed than Black Friday. I'm not a fan of shopping with hordes of people, so I'm more than happy to do my Christmas shopping from my couch.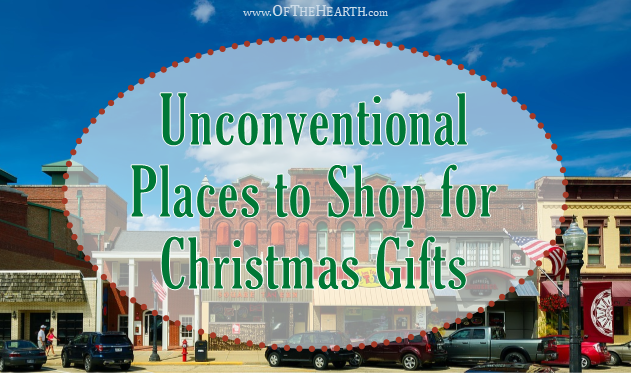 Of course, popular brick-and-mortar department stores and online retailers like Amazon aren't the only places we can shop for Christmas gifts. There are a number of less conventional places where we just might find some unique gifts!
Unusual places to shop for Christmas presents
Thrift stores, garage sales, and used book stores.

I kind of cringe at the thought of shopping for others at places that have a lot of used items because these items are often very used. However, if you have patience, you can often sift through the junk and find some really amazing deals. Many times I have found new items (clothes with the original tags on them, books that look and feel as though they've never been opened, etc.) or barely used items at these venues. Despite their condition, their prices were super low. Thrift stores, garage sales, and used book stores are particularly great if you are on a tight budget or if you're looking for vintage items.

Craft fairs.

I'm amazed at the skills of artisans who take part in craft fairs. Depending on the fair, you may find home décor items, clothing, furniture, kitchen accessories, dolls and other toys, etc. Craft fairs are particularly wonderful if you want to support individual artisans or if you're looking for one-of-a-kind gifts.

Local boutiques and other small businesses.

There are likely some folks in your community who own boutiques or other small businesses. They may offer a smaller selection than chain stores, but they often have better customer service and distinctive inventory. These are great places to shop if you're looking for unique gifts or you'd like to support the local economy.

Organizations that sell handcrafted goods made by women in developing countries.

There are a number of not-for-profit groups that bring to market fair trade, handcrafted goods (jewelry, home décor items, toys, etc.) made by women in developing countries. The money paid for these items provides the women with reliable, fair living wages and work experience that keep them out of poverty. There are many organizations that sell goods like this. Do your research before choosing one so you are sure to purchase from a non-profit group that puts your money into the hands of the artisans and not into their own pockets. This is a great way to buy gifts if you'd like to make an impact with your purchase and give unique, handcrafted items.

Service providers.

When I say "service providers," I mean places that provide services instead of physical merchandise. Many of our loved ones have plenty of stuff, but they could really benefit from a service. Your sister might appreciate a gift certificate for a massage at a local spa, your mom might appreciate a gift card for a cleaning service, your kids might appreciate swimming lessons, your cousin might appreciate a gift certificate to get his car washed and detailed, etc. Gifts like these are great options for those people in our lives who seem to have everything!

Your own closet.

I don't advise that you go find something old and useless in one of your closets and give it as a gift (unless, of course, it's for a white elephant-type gift exchange). However, many of us have unused items in our closets that others would love to have. In fact, in my household, we hang onto the gifts we receive that we have no use for (such as board games that don't interest us or bottles of wine that we won't drink) and then give these as gifts to others. This concept might bother some of you, but I feel no shame in "regifting," especially when the items are unopened! This approach is helpful if you're on a very tight budget or if you have some wonderful items that you'd like to give to someone who would really appreciate them.
I've already shopped at two of these and I'll likely hit at least one other before Christmas this year. What about you? In what unconventional places do you shop for Christmas gifts?
Save
Save
Save
Save
Save