When I lived in Texas, we welcomed the dry air of winter as a break from very humid summers. Now that I'm living in the north, the dry winter air is problematic.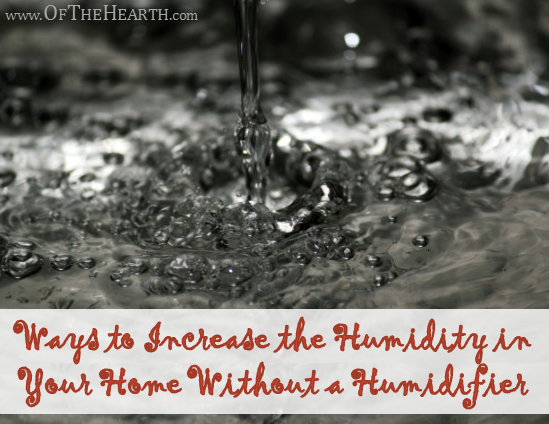 We're suffering from dry skin, irritated nasal passages (this increases the likelihood we'll come down with a cold or flu), and frequent static shocks. We looked into purchasing a small humidifier, but instead of spending money on one and trying to find room to store it, I wanted to see if there are other approaches that might help add moisture to our air. Here's what I discovered.
How to add humidity to your home without a humidifier
Use the stovetop.

Cook meals on the stovetop and use a teakettle to heat water instead of a microwave. This allows you to take advantage of incidental moisture release. When you're not cooking, you can simmer a large pot of water on the stove (add a few drops of essential oil or some lemon slices to give the air a pleasant scent). A similar alternative is to simmer water in a slow cooker.

Set out water.

Place vases of flowers or water-filled bowls of glass beads or decorative rocks out around the house. The water will gradually evaporate into the dry air. You can speed up this process by placing water-filled metal or ceramic bowls atop radiators or heat registers.

Line dry clothes indoors.

Moisture is released into the air as clothes line dry. A portable drying rack will allow you to easily dry clothes in various rooms of your home.

Shower with the door open.

If you can, leave the bathroom door open while you shower so the steam can escape and add moisture to surrounding rooms. If you take baths, then don't drain the tub when you first get out. Allow the water to add moisture to the air as it cools, then drain it. (If you have young children in the house, then pass on this last option because the standing water is a drowning risk.)

Get some plants.

Moisture evaporates from the leaves and stems of plants in a process called transpiration. Because of this, well-watered plants add humidity to the air.
We're going to try some of these strategies and see if they'll help us! For additional information on adding humidity to the air in your home, visit my sources (here and here).
What do you do to add moisture to the air in your home during the dry winter months?
Shared on the following link-ups:
Living Proverbs 31, WholeHearted Wednesday, One Project at a Time, Titus 2 Tuesday, Handmade Tuesdays & Monday's Musings.