Back when my husband and I were dating, he asked me what I thought about romance.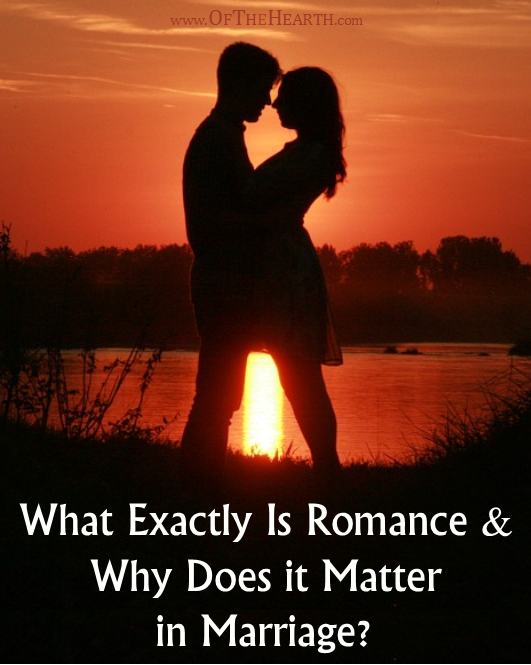 I don't need flowers, chocolates, and Hallmark cards to make me feel loved, so I told him I wasn't that romantic. This exchange occurred via email, so I was able to keep his response to my statement. It was quite insightful.
"I would define things as romantic based on the spirit in which you do them and their meaning to who you are doing it for. Romantic to me doesn't have anything to do with hearts and other cliché things per se, though these may be meaningful to some. I am a firm believer that there are words, actions, and things that speak to everyone's heart. When you learn what those are, then you have found how to touch someone in a profound way."
Before you ask, yes, I know I married an amazing man. He was so spot on with his response. Romance isn't necessarily about candlelit dinners or moonlit walks on the beach. Some people may find these to be romantic, but others may prefer a back massage, a handwritten note, or a trip to a coffee shop.  Romance is subjective. We all have slightly different things that speak to our hearts.
This may relieve some anxiety you've been having about Valentine's Day (which is next week). There's no one thing that you must do for your spouse in order to be romantic. This realization; however, may cause you some significant anxiety. If there isn't some predetermined action or gift that is universally romantic, then what is it that speaks to your spouse's heart?
Why romance matters in marriage
It's so important for our marriages that we figure out what our spouses find to be romantic and that we do these things. Why? Because romantic gestures communicate to our spouses that we still love them and still think they are wonderful.
As we go about our everyday activities we often know somewhere in the back of our minds that our spouses love us. It sure makes a difference to have this love demonstrated to us, though! It's like getting to indulge in a delectable dessert. Like dinners, our marriages can be sufficient and even fulfilling without romance, but they will lack the excitement, fun, and adventure that they could have if we enjoyed an occasional dessert.
Have you given much thought to the role that romance should play in marriage? How do you find ways to integrate romantic gestures into your marriage?
Shared at the following link parties:
Monday's Musings, Wedded Wednesday, WholeHearted Wednesday, Coffee and Conversation, From House to Home, Shine Blog Hop, Weekend Wind Down, Titus 2sday, and Titus 2 Tuesday.