As my husband and I have been tidying our yard this spring, we've done some research on weeds. Do you know the difference between flowers and weeds? Weeds are defined as plants out of place or plants growing where they are not desired. According to this definition, even beautiful, well-loved flowers constitute weeds when they grow in locations where they do not belong.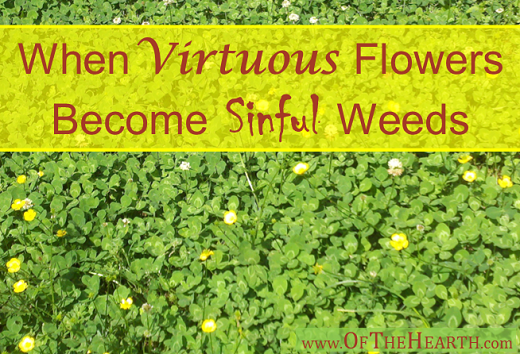 This definition got me thinking about the virtuous things in my life that were flowers but have become sinful weeds because they've taken root in the wrong place or grow in the wrong form. Two of these are especially significant in my life.
The weed of perfectionism from the flower of excellence
The Bible is clear that it honors the Lord for us to complete the tasks before us—even small ones—with faithfulness (Luke 19:17). Likewise, we are to put full effort into our work and complete it as unto the Lord (Colossians 3:23). Excellence is a good thing! At some point my motive for completing tasks with excellence changed from honoring the Lord to things like maintaining my GPA (during my years in school), earning approval from supervisors, and preserving my reputation. Excellence is God-honoring, but perfectionism isn't. It's a manifestation of pride and fear.
The weed of anxiety from the flower of responsibility
Taking prudent actions to prepare for the future is a responsible thing to do. Being responsible in this way is praised in Scripture (Proverbs 6:6-11 and Proverbs 27:23-27). Unfortunately, at some point my sense of responsibility bourgeoned into worry and anxiety. Unlike responsibility, these are not praised in Scripture. In fact, we are told that worry is ineffective and are admonished to trust the Lord for His provision (Matthew 6:25-34).
Do you struggle with perfectionism or anxiety? Some other common weeds are legalism from the flower of holiness and shame from the flower of conviction. Perhaps one of these is familiar?
What precipitates the transformation of these flowers into weeds? In some cases the transformation may be caused by something like willful disobedience or fallout from a traumatic event, but quite often I think we just let our guards down and allow our focus to become too homed in on one aspect of our faith. In other words, we lose perspective and begin esteeming one feature of our faith disproportionately. For example, I began emphasizing excellence more than other traits we are to express (e.g., love, generosity, peace). That disproportionate emphasis allowed the flower of excellence to spread, take root, and flourish in more soil than it should, thereby becoming a weed (perfectionism). This is often how I've seen legalism develop—one aspect of holy living becomes overemphasized until rigid rules that are often inconsistent with Scripture dominate.
Unfortunately, it's terribly difficult to get rid of weeds. They spread quickly and their roots often go deep into the soil. These spiritual weeds are hard to get rid of, too. I wish I could list "5 easy steps" to eliminate them, but that's not how it works. Just like literal weeds, we must watch for them and be diligent to pull them out every day when we come across them.
With which "weeds" are you struggling? How are you working to eliminate them? What strategies have helped you?
Shared on the following link-ups:
Monday's Musings, Living Proverbs 31, Faith and Fellowship Blog Hop and Word Filled Wednesday.