I'm often asked about why and how I plan monthly menus for my household. Usually these questions are accompanied by an exasperated statement such as "I could never be that organized."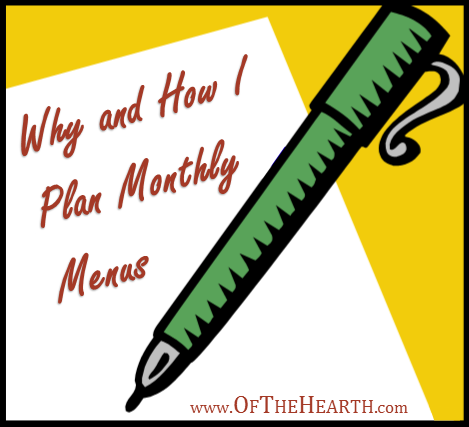 Believe it or not, it's pretty easy to plan monthly menus. Additionally, it has saved my family so much time and money that I haven't considered reverting to approaches I've used previously.
I'm a firm believer that different methods work for different families. You may already have a menu planning approach that works for you. However, if you don't—or if you're exploring alternatives—this explanation of why and how I plan menus might be useful.
My menu planning approach
I sit down each year in the spring, summer, fall, and winter to develop a menu that contains 4 weeks' worth of dinners. We use each menu for three consecutive months and then move on to the menu I've developed for the subsequent season.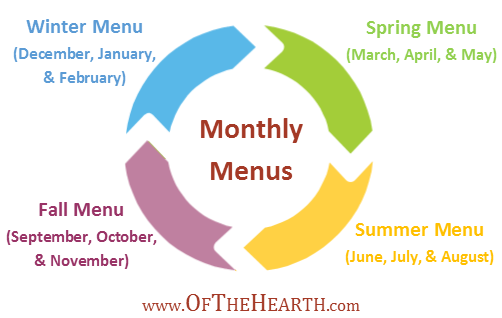 To prevent us from growing tired of a menu, I include lots of variety and I leave two days open to accommodate opportunities to eat out or to join friends for dinner. Moreover, meals are not assigned to a particular day of the week. This gives me leeway regarding which day of the week I prepare a given meal. I'll provide step-by-step instructions for getting started on a monthly menu after I discuss why I use this approach.
Why I plan monthly menus
Once I saw how much time and money I saved with this approach, sticking with it was a no-brainer.
It saves time
My grocery lists are premade

. Because I need the same items from the grocery store each month that I use a particular menu (with only slight variation), I develop a grocery list and type it up on the computer. Instead of writing up a list each month, I simply print the list and write in any additional items we need.

I know what is for dinner every night

. I don't have to search through my cabinets and determine what I can make for dinner each day. Moreover, I don't get started on dinner and realize I'm missing an ingredient. All I have to do is look at the menu and see what is listed next. I have all of the ingredients on hand because my grocery lists are made from the menus.

I only have to plan a menu once every 3 months

. I don't have to sit down each week to plan a menu. Once I've come up with one, I'm good to go for three months. When it is time to develop a new one, I can draw ideas from previous menus.

I only grocery shop twice a month

. At the beginning of the month, I purchase a lot of groceries. I get all of our meats, cheeses, and nonperishable items. I also buy produce and milk for the first two weeks of the month. Midway through the month I go on a second shopping trip to get produce and milk for the second two weeks of the month. Streamlining my grocery shopping like this means I'm not running to the store every week. When I do go to the store, I know exactly what I need so I can get my groceries and get out of the store quickly.

I can prepare products in large batches

. I'm able to take a little time at the beginning of a 3-month period or at the beginning of the month (depending on the product) to prepare large batches of cream of mushroom soup, cheese sauce, beans, etc. I don't have to take time to prepare these each time a dish calls for them.
It saves money
I can make bulk purchases

. When I begin using a new menu, I can identify exactly what foods I will need for the next 3 months. If I need a lot of a product, I can purchase it in bulk for lower per unit costs. For example, a 64 oz. bag of pinto beans ($0.05/oz.) has a lower per unit cost than a 16 oz. bag of pinto beans ($0.11/oz.). Similarly, 80 oz. of mozzarella cheese ($0.16/oz.) has a lower per unit cost than 16 oz. mozzarella cheese ($0.25/oz.). Of course, you can always make bulk purchases without planning monthly menus. However, in doing this, you run the risk of purchasing items that will go bad because you don't have specific plans for when and how to use them.

I can plan to use items that are in season

. I can include items on the menu when they are in season and cost less. For example, tortillas, avocados, cilantro, lettuce, onions, and tomatoes often go on sale for Cinco de Mayo, so we like to include some Mexican food dishes (e.g., burrito bowls, quesadillas) on our spring menu.

We don't waste any food

. Planning ahead allows me to optimize our use of the foods we purchase. I fit our meals together like a jigsaw puzzle. For example, last summer we had ham on our menu. I froze the ham bones and used them in the fall to make ham and beans.
Drawbacks to planning monthly menus
Though I love the approach I use to plan menus, I'm not blind to the drawbacks of it.
I can't always take advantage of sales

. Sometimes I see great deals in the ads for grocery stores and I can't take advantage of these because the items that are on sale aren't on our menu. Of course, if it is a nonperishable item or something that can be frozen, I can purchase it and use it on our next menu.

Sometimes we decide we don't like a meal and have to make a change to the menu

. If I put a new recipe on our menu and we don't like it when I prepare it the first time, then we either have to eat it two additional times or change the menu. We usually change the menu, but this presents a challenge because I then have to adjust my grocery list and come up with another meal option.

It can be difficult to find storage space for bulk purchases

. We live in a small home, so it is often challenging to find space to store bulk purchases. You could plan monthly menus without making bulk purchases, but this would decrease the amount of money it saves.
Getting started planning monthly menus
Here's how I develop my menus.
Start with a blank grid

. I insert a simple table with 28 cells into a Microsoft® Word document. This provides one cell for each day of a 4-week month.

Decide how many days to leave open

. We leave two days open each month to allow for eating out and sharing dinner with friends.

Begin filling in the grid by adding meals you know you want to eat

. If you happen to have specific meals in mind that you know you want to eat, place these on the menu.

Fill in the remaining cells with complimentary items

. If you'll be eating an entrée with chicken, then consider adding several entrées that use chicken so you can purchase it in bulk. If you want to have roast beef for a meal, consider planning a couple of other dishes that use beef roast (beef stew, roast beef sandwiches, etc.). Do the same with other meats and with side dish ingredients. For example, if you'll be using lettuce and tomato to top hamburgers, consider adding to the menu other dishes that use these ingredients (chicken sandwiches, side salads, burrito bowls, etc.).

Include enough variety that you won't grow tired of the menu when you use it for 3 consecutive months

. Try to include a wide variety of meals (pastas, soups, salads, casseroles, etc.) so you don't grow bored when using the menu three times.
This is what works for my family. What works for you? How do you plan menus for your family? Share your approach and useful tips in the comments below.
Shared on the following link-ups:
Frugal Crafty Home, Creativity Unleashed, Thriving Thursdays, Whatever Goes Wednesday, Works for Me Wednesday, One Project at a Time & Growing Homemakers.