It felt very natural to read to my daughter throughout her first year. Though she didn't understand many of the words in the books, I figured that reading provided an opportunity to cuddle, to instill in her a love for reading, and to foster her intellectual development.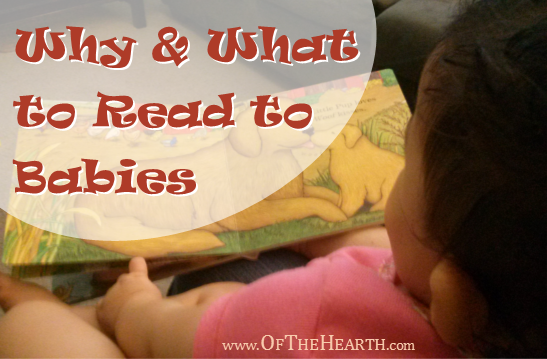 It turns out that I figured correctly. The American Academy of Pediatrics indicates that there are a number of benefits associated with reading aloud to infants. In fact, just last year it began advising its members to encourage parents to read aloud to their infants from birth.
What are these benefits and what exactly should we read to infants given they have short attention spans and really just want to chew on books?
Why we should read to our babies
Even though babies may not understand the words we read to them, researchers have identified several ways in which reading benefits them.
Reading helps babies bond with their parents.

Babies enjoy sitting near their parents and hearing their voices. Babies come to associate reading with close, intimate time with their mamas and daddies.

Reading stimulates babies' cognitive development.

The images in books (colors, shapes, patterns, etc.) and the sounds parents make while reading books (words, animal sounds, etc.) foster babies' intellectual growth and awareness of their surroundings.

Reading boosts babies' language skills.

When babies hear words read aloud, they become familiar with the consonants, vowels, and syllables that comprise their native languages.

Reading promotes rest.

Whether done before bedtime or not, reading is a soothing activity that promotes rest and relaxation.
The best books for babies
Due to their short attention spans and propensity for chewing, some books are better than others for babies. Here are some attention-grabbing options that have been popular in my house. Note: Some of the following links are affiliate links (click here to read about what this means).
Cloth books.

Cloth books are wonderful because babies can chew on them, tug at them, and toss them around without causing any damage. While I never encourage my daughter to treat books in this manner, it happens because young babies can't differentiate between the various purposes of their toys. We love the Lamaze Classic Discovery Book because it is brightly colored and has a clip so you can hook it to strollers, high chairs, car seats, etc. to keep it within reach. Elephant and Friends is another of our favorites. It has small tags that hang off of its pages. These keep my daughter occupied for long periods of time!
High-contrast board books.

High-contrast books contain images that can be seen and enjoyed by even very young babies. We enjoy reading a couple of the Hello Baby high-contrast board books (Animals and Words). These books are very sturdy (ours have been dropped and chewed on quite a bit) and contain engaging images.
Touch and feel books.

Have you ever noticed how older infants are so curious that they reach out and grab everything they can get their hands on? Touch and feel books contain textured portions that harness this curiosity to help babies explore and learn. My daughter enjoys exploring Baby Animals and Colors.
Animal, color, ABC, shape, and number books.

Books that teach about animals, colors, the alphabet, shapes, and numbers should be staples in every child's library. Our little ones will need to be able to identify these as they grow older, so it's great to start reading about them right away. My Big Animal Book and Colors, ABC, Numbers are two of our favorites for teaching these. They are sturdy and contain large, colorful images.
Storybook Bibles.

There are so many storybook Bibles out there that it can be difficult to choose which one to read to your infant. You don't want one that is too wordy, but you do want one that is scripturally accurate and beautifully illustrated. If you keep in mind that all authors use some degree of artistic license when writing a storybook Bible, then you can find several that are good options. We were given a copy of The Story for Children and have been reading it to our daughter. She's captivated by the beautiful illustrations in it and most of the stories are short enough that she can sit still on one of our laps for the duration of a whole story.
Books that entertain adults.

It's not unusual to end up reading the same book over and over and over again to your baby. That's why I like to have a few on hand that I enjoy reading. A couple of my favorites that are also enjoyed by my little one are Little Blue Truck and Gossie.
For additional information on the benefits of reading aloud to infants, visit my sources: here, here, and here.
Do you read to your baby? What are his or her favorite books?
Shared on the following link-ups:
Think Tank Thursday, Coffee and Conversation, WholeHearted Wednesday, Tuesday Talk, Titus 2sday, Titus 2 Tuesday and Monday's Musings.