A few weeks ago my husband and I had access to cable television because we were staying in a hotel for a couple of days. Though we have a TV in our living room, we don't have cable or satellite for it.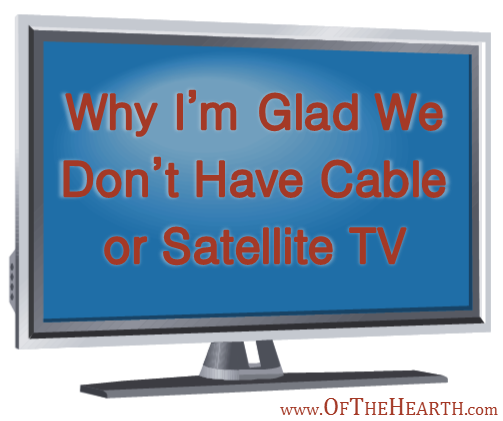 We typically enjoy having temporary access to cable. My husband will watch a couple games and other sports-related shows. Together we'll watch shows on home decorating and home improvement. Despite enjoying the opportunity to watch these, this time in the hotel reminded me that I'm glad we don't have cable or satellite TV in our home.
5 reasons I'm glad we don't have cable or satellite TV
The price tag.

According to the Federal Communications Commission, the average monthly cost of a basic cable television subscription is $64.41 (though taxes, fees, and surcharges bring the actual cost up to about $80 per month). Satellite TV subscriptions are similarly priced. This means that many cable and satellite users are paying around $1,000 annually for their subscriptions. Wow! We simply don't have room in our budget for this sort of expense. Even if we did, $1,000 dollars can make a significant contribution to a college fund for our baby or buy a lot of groceries, supplies for home improvement projects, etc. I hope we'd choose to use the money for one of these instead of paying for cable or satellite TV.

The junk.

There is so much junk on TV today, both on shows and on commercials. I'm amazed at how much skin can be shown on TV, even during hours when children would be expected to be watching. Last time I flipped through the channels, I observed a number of shows that had story lines about adultery or other forms of sexual immorality and that depicted pretty graphic violence. I also saw a number of commercials with not-so-covert sexual innuendo. I can't imagine anyone benefiting from exposure to this junk. In fact, the Bible teaches us to instead think on things that are true, noble, right, pure, lovely, and admirable (Philippians 4:8).

The waste of time.

TV tends to have a mind-numbing effect. During our time in the hotel I would turn on the TV to check the weather or news in the morning. Fifteen or 20 minutes later I would find myself staring mindlessly at the screen watching some show I wasn't even really interested in watching. TV sucks you in and time quickly passes. I hate to think how far behind I would get on housekeeping tasks if I were "busy" watching TV at home.

The inactivity.

Perhaps it's the mind-numbing effect or perhaps it's the location of the TV, but it's difficult to do much else while watching a television show. Unfortunately, you don't burn a lot of calories while sitting and watching. For 25 years researchers have found links between watching TV and obesity. Think this is trivial? It's not. One study among middle-aged women found that for every two hours the women spent watching television each day, they had a 23 percent higher risk of becoming obese and a 14 percent higher risk of developing diabetes (read more here). Forget the TV—I'll engage in more active activities and ward off the risk of obesity and diabetes instead!

The alternatives.

There are so many great alternatives to cable and satellite TV. In fact, we rarely think about the fact that we don't have these. We talk about our days, read books, play games, and debate political issues. Sometimes we window shop and attend local sporting or cultural events. When we do want to watch something, we take advantage of the few channels we get with an antenna, we use Amazon Prime, or we rent movies they have on DVD at the public library or a Redbox.
What's your experience with cable or satellite TV? Why do you (or don't you) subscribe to these services?
Shared on the following link-ups:
Capture Your Journey, Motivation Monday, Making Your Home Sing, Saturday Soiree & Essential Fridays.