I've never been particularly fond of the Crucifixion accounts in the Gospels. I feel sad when I read them. Sometimes I feel uncomfortable when I read them. Why couldn't the apostles have focused a bit more on the Resurrection and a bit less on Jesus' suffering-filled death?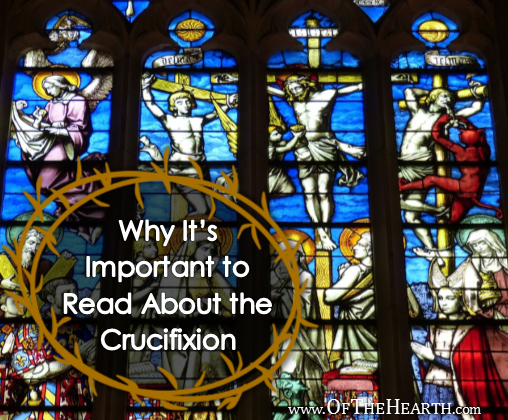 As Easter approaches, I've been thinking about why it's important for us to read about the Crucifixion. It's easy to understand that we should read the Gospel accounts of it simply because they are included in the Bible. However, I think there are several other important reasons to read them.
Why read the story of the Crucifixion
It reminds us that our forgiveness is possible because of Christ's shed blood
The Crucifixion was bloody. This is one of the chief reasons I don't like reading about it! If anything, though, this aspect of the story should draw me to it. Why? Because it is Christ's shed blood that brings about forgiveness for our sins:
"This is my blood of the covenant, which is poured out for many for the forgiveness of sins." Matthew 26:28
It helps us see the gravity of our sin
I think we sometimes don't take our sin seriously enough. We continue engaging in it because we know we're under grace and not under the law (Romans 6). The Crucifixion helps us get a right perspective on this. If the only way our powerful and righteous God could forgive our sin was by bearing it Himself in Christ on the cross, then our sin must be a very serious thing.
It shows us the depth of God's love for us
Jesus endured the shame and pain of the cross for us:
"Who, being in very nature God, did not consider equality with God something to be used to his own advantage; rather, he made himself nothing by taking the very nature of a servant, being made in human likeness. And being found in appearance as a man, he humbled himself by becoming obedient to death—even death on a cross!" Philippians 2:6-8
Just think about it for a minute: He endured that suffering for you and for me. Who else would endure such anguish for frail, fickle, and deeply flawed people like us?
It reminds us that we don't earn our salvation by works
We can't earn forgiveness and the assurance of eternity with God by doing good things. It doesn't matter how much we give, serve, or confess. Even penitence or self-flagellation won't earn us salvation. The Crucifixion reminds us that our salvation is truly by God's grace, through our faith in Him (Ephesians 2:8-9). Christ purchased us by His own blood so we do not have to rely on works to be justified before Him (Galatians 3:10-14).
It helps us as we experience trials
We experience trials in our own lives. Not only do we know this from our own experiences, but the Bible tells us to expect it (John 15:20, 16:33). The Crucifixion helps us remember that, in the same way it perfected Jesus, suffering from trials helps us grow (Hebrews 2:10 and 5:8-9, James 1:2-4). It also reminds us that our present sufferings are fleeting and are helping us gain an eternal glory (2 Corinthians 4:17).
Final thoughts
As you read about the Crucifixion this Easter, it's okay to cringe at the thought of a crown of thorns. It's okay to feel sorrow at the thought of our sin. It's okay to cry over the fact that Jesus was beaten. These thoughts and feelings help us remember that:
We're forgiven because of Jesus' shed blood.
Our sin is serious.
God's love for us is extravagant.
We don't have to earn our salvation.
Our struggles are not in vain.
Have you ever found it difficult to read about the Crucifixion? Why do you think it is important that we read about it?
Shared at the following:
Monday's Musings, Moments of Hope, Tuesday Talk, Coffee and Conversation, Word Filled Wednesday, Grace and Truth, and The Art of Home-Making.
Save
Save
Save
Save
Save
Save
Save
Save