A couple of days ago I was looking into staycation ideas. I was surprised to see how many writers view staycations negatively! They described them with words like "stupid," "boring," and "pointless."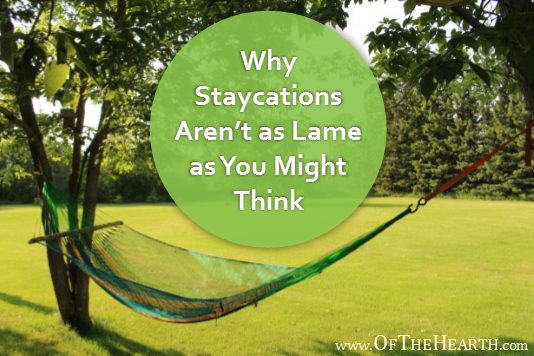 I'm certainly not a staycation ambassador, but I think the concept of vacationing at home or nearby deserves a much better rap than it is getting.
Why staycations are great
Staycations are affordable.

Because staycations take place locally, you don't have to worry about paying for airfare, rental cars, or hotel stays. This means more money is available to spend on actual activities. Moreover, families on tight budgets can vacation without going into debt.

Staycations are less stressful.

Though vacations are supposed to provide a relaxing break, they are often quite stressful. Getting packed, being on time for flights, and navigating unfamiliar cities can all cause significant anxiety. There's a lot less stress when you eliminate the need to pack, get on a plane, or trek through unfamiliar locations.

Staycations offer flexibility and allow you to be spontaneous.

Staycations are great for families who need flexibility. It's okay if one family member can't take a week off from work. A staycation can occur in just one or two days. It's okay if you have an unpredictable schedule because of a family member's health issues. There's no need to worry about travel-related cancellation fees because a staycation can take place whenever he or she is having a good day or a good series of days. Staycations are also a good option for families who have a member who can't travel and families who don't want to leave their pets for an extended period of time.

Staycations boost the local economy.

The local economy is strengthened when you eat at local hole-in-the-wall restaurants, shop at local mom-and-pop stores, and visit local attractions. If you happen to share about your experiences with family members and friends, they may also visit these places, which boosts the economy even more!

Staycations help you get to know your community and the surrounding areas.

As you explore local business and attractions, you get to know your neighbors and get connected to your community. This connectedness is beneficial because it helps you take pride in your community and it empowers you to make informed decisions when you vote and participate in community organizations.

Staycations are still a vacation!

A vacation is a break or a time of respite from something (usually work or school). Therefore, regardless of how you feel about staycations, they still qualify as vacations! If planned carefully, they can provide respite from work and other demanding activities.
I can honestly say that I don't feel deprived at the thought of having a small staycation this summer in lieu of travel. It is nice to get away on occasion, but we're busy moving, so a staycation seems quite perfect for us! What do you think? Have you taken a staycation? If so, how was it?
Shared on the following link-ups:
Shine Blog Hop, Think Tank Thursday, Summer Family Fun, Titus 2 Tuesday, Monday's Musings, Making Your Home Sing and Saturday Soiree.