Brrrrrr! Cold temperatures have set in and Christmas is just around the corner, so it's time to start using this year's winter menu. As you may recall, I periodically develop monthly menus. We use each for 3 consecutive months before moving on to a new one (read more on why I plan monthly menus here).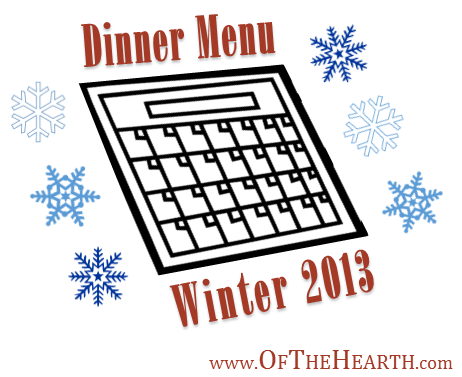 We only include dinner selections on our menu because we almost always eat leftovers with a side of fruit for lunch. I typically make a few items on the weekends for breakfasts and freeze them for easy preparation on weekday mornings. Our recent favorites include honey wheat butterhorns, pancakes, and breakfast sandwiches.
We have several casseroles on the menu that call for cream of mushroom soup. In the past, I would have used canned condensed cream of mushroom soup. However, in keeping with our efforts to eliminate our need for foods that come in BPA-laden cans, I'll be making homemade cream of mushroom soup this winter.
Week 1
Week 2
Week 3
Week 4
Over the next few weeks I'll post recipes for some of the dishes on our menu.
What will you be eating this winter? Do you have any new recipes you're eager to try?
Shared on the following link-ups:
Teach Me Tuesdays, Living Proverbs 31, Essential Fridays, & Friday!