Before I got married, I had a mental list of things I would and wouldn't do in marriage. I'll always have my husband's work clothes washed and ironed when he needs them. I'll never stay in sweatpants all day and let myself look like a slob. Ha! What a difference a few years make!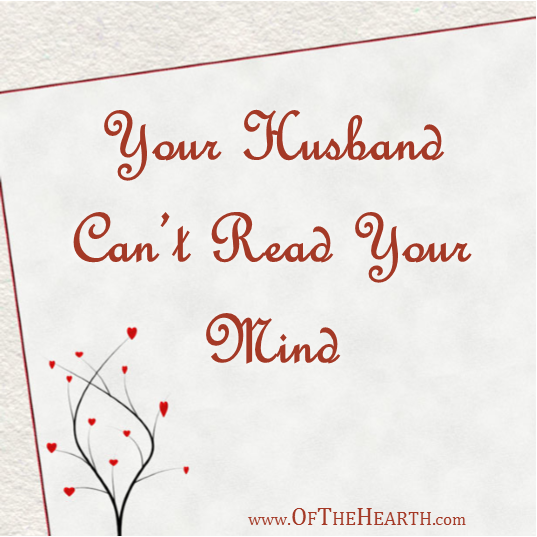 One of the things I never thought I'd do is expect my husband to read my mind. I truly believed I'd openly communicate about my needs and expectations. A funny thing happened when fatigue, busy schedules, and the demands of parenthood entered our marriage: I began expecting my husband to know what I need without me actually stating my needs.
This was problematic because husbands can't read the minds of their wives. That's right. Our husbands cannot accurately guess all of our needs and expectations. If we assume they will, then we will be disappointed. This disappointment can tempt us to lose respect for our husbands and become frustrated with them.
Let's not let this happen. Here's what I'm doing to make sure I tell my husband what I need or expect.
Communicating your needs and expectations in marriage
–Be specific. In addition to not being able to read minds, husbands don't always pick up on subtle suggestions. For example, I've made general statements about being overwhelmed by housework (e.g., "Can't you see that I'm overwhelmed by all there is to do around here?") and expected my husband to then volunteer to help out. Not surprisingly, I was disappointed. You'll notice that my statement didn't actually ask for help. Even direct requests that weren't specific (e.g., "Will you please help me with the housework?") have sometimes led to disappointment. On the other hand, when I ask for help with a specific task (e.g., "Will you please wash a load of towels this afternoon?") it provides my husband with a clear picture of what I'd like him to do. Being specific doesn't just apply to asking for help. It applies to other situations, too, including expectations for your birthday or anniversary.
–Avoid making accusations. There's a clear difference between communicating your needs or expectations and accusing your husband of not doing things.
Requests or statements of need/expectation        Accusations

"I'd like you to…"                                                        "You didn't…"

"It would help me if…"                                              "Why don't you ever…"

"Please help me by…"                                                "You never help with…"
See what I mean? When we make accusations, our husbands may automatically feel defensive. This isn't going to motivate them to meet our needs and expectations. There's definite truth to the old adage that you catch more flies with honey than vinegar!
–Don't nag. Persistent faultfinding and relentless urging probably won't get you very far. Not only are these annoying, but they don't demonstrate respect for your husband (Ephesians 5:33). I do think it is okay to remind our husbands if they've forgotten something we've asked of them, but we must do so in a respectful manner. If a reminder doesn't work, I try to ask in a different way after some time has passed.
–Pray. When we fix our focus on the Lord and not on the many distractions we face daily, then we're much more understanding of our husbands and their perspectives. Subsequently, prayer—prayer for them and for ourselves—is crucial to helping us communicate well in marriage.
Have you ever expected your husband to read your mind? What things do you do to make sure you communicate your needs and expectations to him?
Shared on the following link-ups:
From House to Home, Coffee and Conversation, Wedded Wednesday, Titus 2sday, Titus 2 Tuesday, Living Proverbs 31, The Art of Homemaking, Motivation Monday, Making Your Home Sing & Saturday Soiree.