Because we recently looked at how flirting with our husbands can benefit our marriages, I thought it'd be a good idea to consider some ways to flirt. After all, if we start giggling excessively or winking at our husbands all the time they may think something is wrong!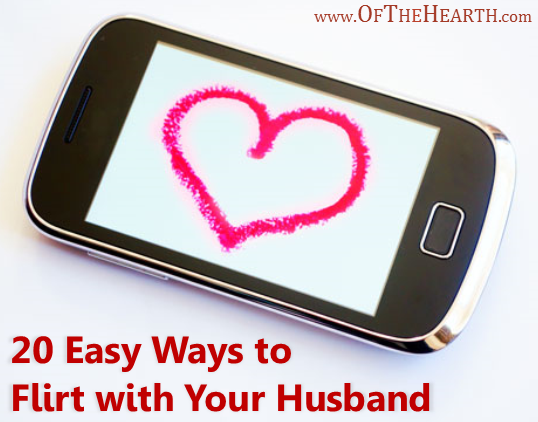 Thankfully, there are a lot of easy ways to flirt. My husband has been encouraged as I've tried several of these. Would your husband feel similarly?
Easy ways to flirt with your husband
Pay him an unexpected compliment.
Spend a little extra time kissing him goodbye before he leaves for work.
Surprise him with an unexpected date night.
Make him heart-shaped pancakes for breakfast.
Leave a brief love note on the bathroom mirror for him to find in the morning. You can write it on the mirror in lipstick for dramatic effect or write it on a sticky note that you stick to the mirror for easier cleanup.
Dig out an attractive nightgown that you haven't worn in a while and wear it to bed tonight.
Next time he enters the room, undress him with your eyes (i.e., slowly look up and down his body). Smile at him when he notices what you're doing.
On a cold day, sneak out and warm up his car before he leaves for work.
Send him flirty text messages all day long. Tell him what you find attractive about him, why you love him, that you miss him, etc.
Stroke his thigh under the dinner table.
Hold hands while you walk through the grocery store or mall.
Go to a movie and sit in the back row where you can cuddle.
Go outside and dance during a rainstorm.
Send a love note in his lunch.
Slip into the shower with him when he isn't expecting it.
Write "I love you" or compliment him on his Facebook wall.
Buy his favorite candy bar while at the store and give it to him with a note that explains why you're sweet on him.
Write him a love poem or, if you're not a poet, share a classic love poem with him.
Next time you're alone together at home, show some skin. Wear a short skirt or don't button your shirt up all the way.
Take him a cold glass of water when he is working in the yard and let him know just how smokin' hot he looks.
Do you have additional ideas? Please share them in the comments section below.


Shared on the following link-ups:
Wifey Wednesday, Messy Marriage, WholeHearted Wednesday, Titus 2 Tuesday, Motivation Monday, Making Your Home Sing and Weekend Wind Down.
Save
Save