A couple of weeks ago we examined some of the wonderful benefits of living in a small home. I didn't recognize all of these benefits until my family moved from our small home into a larger one.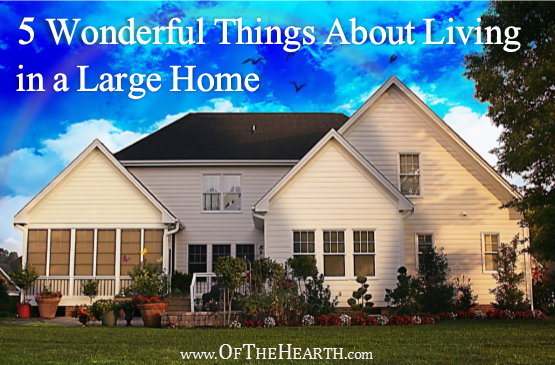 Though these benefits are great, I've discovered that there are also a number of wonderful things about living in a large home.
In the context of this post, "large home" isn't necessarily synonymous with "mansion." The average home built in 2014 was 2,600 sq. ft. in size (source), which means our home is actually somewhat modest in comparison. At 2,300 sq. ft., I feel that it is pretty large, but this is all a matter of perspective. I was thinking of homes like mine while writing this post, but I'm sure these benefits also apply to homes that are slightly smaller or significantly larger.
The benefits of living in a large home
You have room for many guests.

Whether you are welcoming family members, friends, missionaries on furlough, foster children, or others, the extra bedrooms, bathrooms, and living space in larger homes provide you with the room you need to comfortably accommodate guests in your home.

You can house multiple generations under one roof.

As older relatives are living longer and many families have to pinch pennies to make ends meet financially, it's becoming increasingly common for nuclear families to have grandparents and other loved ones living with them. Larger homes allow family members to maintain their own spaces while sharing a single house.

You have space for a home business.

The extra space available in a larger home makes it easier to create a home office and to have work space and/or storage space free for running a business out of your home.

You can use the space in your home for diverse purposes.

When you have a small home, you are often pretty limited in how you can use the available space. The living room must be used as a living area, the dining area must be used for dining, the bedrooms must be used as bedrooms, etc. When you have more space available, you can use it for diverse purposes. As mentioned above, you can use some space for a home office. However, you may desire to use available space for other purposes. For example, if you homeschool your children, you might like to have an area that you use specifically for your schooling. Likewise, if members of your church meet in homes throughout the week, you may desire to have some space designated for these meetings. You can also use free space to create a playroom for the kids or a craft room and workshop for mom and dad.

Your home may be worth more because if its size.

A common thread throughout my previous post on small homes is that they are generally more affordable than larger homes (they have lower utility bills, cost less to furnish, etc.). While this is generally true, depending on where you live and your plans for the house, it may be a wise financial investment to purchase a larger house. Spacious homes are still in high demand. If you plan to sell your house in the foreseeable future, then it may be best to purchase a larger one (as long as it is within your budget, of course).
In conjunction with my previous post on the wonderful things about small homes, this provides a balanced perspective. What additional benefits of living in a large home would you add? Given there are wonderful things about both large and small homes, do you have a preference?
Shared at the following link parties:
Living Proverbs 31, Monday's Musings, Tuesdays with a Twist, Making Your Home Sing, and The Art of Home-Making.