My husband and I have books in abundance. Would you like to read a biography? We've got everything from Walker's William Carey: Missionary Pioneer and Statesman to Moody's Coming of Age in Mississippi. If these don't interest you we also have an account of Dr. Paul Farmer's life and work by Tracy Kidder (Mountains Beyond Mountains) and a personal memoir by Tony Dungy (Quiet Strength). Perhaps you'd like to learn more about health throughout the lifespan? We have you covered with Maternal Child Nursing Care and Gerontological Nursing & Healthy Aging. (I even have a textbook on death and dying, if you're interested.) Has your home computer network been breached? We'd be happy to lend you our copy of Incident Response & Computer Forensics.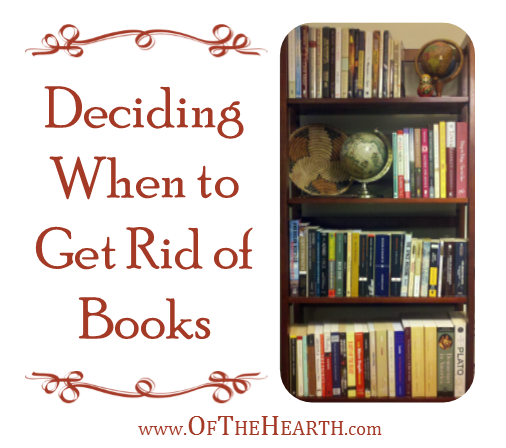 Believe it or not, we actually have fewer books now than we once did—we got rid of many when we moved into our current house. Getting rid of books was difficult then and it's difficult now. (We still have a couple boxes of books for which we do not have shelf space. Moreover, we're hoping to soon convert our office into a nursery, so we may need to reduce the number of books we have in order to consolidate them into the spare bedroom.) Why do I keep so many books? I know I'll read many of them again, especially those on marriage and Christian living. A handful are important because I use them regularly in my part-time employment with a healthcare organization. I can't deny that it's been years since a number of them were opened. However, when I did open them in the past, I learned from them. I hate to remove from my home the veritable treasure trove of ideas presented in the books.
When books become clutter
In general, I do not perceive books to be clutter. Books are an investment when they are procured for the purposes of learning, growth, and even recreation. When they continue to be used for these purposes, they have legitimate places in your home. However, I do believe there are times when books qualify as clutter and should be removed from your collection.
Any book you've never read and do not plan to read

. Perhaps it was given to you as a gift or you purchased it at a time when your interests or needs were different from what they are now. Regardless, if you haven't read it and aren't going to, then get it off your shelf and into the hands of someone who will.

Any book you keep for the sole purpose of impressing people

. I think that keeping anything for the sole purpose of impressing others is a concern because it indicates there may be some underlying issues that are sinful, such as pride, insecurity, or pretending to be someone you're not. Let the act of getting rid of the book be a catalyst for addressing these issues.

Any book that is a second or third copy of a book you already own

. Most of us wouldn't intentionally purchase a second copy of a book we already own. However, a second may be purchased by accident or two copies may end up in your possession by other means. For example, my husband and I read a number of books while we were dating and engaged. We each had our own copies of each book, so now that we are married we have two copies of Sacred Marriage, Love & Respect, and several other books. We also have about a dozen Bibles. Even though they are all different translations, do we really need that many? I can rationalize having multiple copies by saying I may want to read a passage in more than one translation, but the reality is that I usually use websites such as Bible Gateway for this.

Any book you've been planning to read for "forever" but have yet to open

. If you've had a book for a year (or two…or three…) and haven't managed to read it yet, are you ever going to carve out time for it? If you've had an exceptionally busy year, then maybe you could wait a little longer. However, if you've chosen to read other books over the one in question, then maybe you should go ahead and pass it along to someone else.

Any book with significantly outdated content

. The classics aren't going to change, but some books, such as those that address healthcare-related topics and biology, quickly become outdated. In my opinion, they don't become outdated as quickly as the publishers are able to produce new editions, but nonetheless they do become less thorough and less accurate with each passing year.

Any book you are surprised to come across because it was so buried that you didn't know you owned it

. Unless it is a book you've been planning to buy (in which case it'd be a nice surprise!), then you probably don't need the book. If it were a book you really needed, wouldn't you have either read it soon after getting it or at least put it someplace where you would see it and remember to read it?
Getting rid of the books identified by these six points won't be that painful for many of us, but what about the remaining books?
To keep or not to keep
When deciding what to do with your remaining books, it's useful to determine your goal in thinning out your collection. Your goal can guide your approach. For example, some individuals get rid of books because their goal is a minimalist lifestyle. Subsequently, their approach is cutthroat: get rid of books you haven't read in 6 months, get rid of any book that can be found in its entirety online, etc.
While I believe there are many benefits to a minimalist lifestyle, that is not what I'm seeking. Even if I were, I don't feel that my books add to the complexity of my life. If anything, they can bring clarity to it! My desire is to eliminate extraneous books in order to remain organized and free up needed space. When deciding whether or not to keep an inessential possession of any type, I always ask myself if it's valuable for me to keep it. My books are valuable because they serve as resources on a plethora of topics (they contain more information than I'll ever be able to learn!). They were relatively affordable to purchase, yet provide hours of entertainment. They communicate that my household values learning. My husband and I have sentimental attachments to some of them. Quite frankly, given the other benefits of the books, I'd rather have shelves of them than shelves of trinkets and figurines.
When you do determine that some of your books are extraneous, what should you do with them? Tossing them out in the trash seems wasteful, but what other options are there? There are actually quite a few and we'll take a look at some of them next week.
Do you have a lot of books? Is it ever difficult to make the decision to get rid of them? How do you decide which to keep?
Shared on the following link-ups:
Inspiration Spotlight, Creativity Unleashed, Think Tank Thursday, Home and Garden Thursday, Teach Me Tuesday, Titus 2 Tuesday, Monday's Musings, Blog Fair, One Project at a Time & Frugal Crafty Home.