I'm so glad that the cold winter has passed and we're finally getting sunshine and warm temperatures! Unfortunately, this means our electric bill is about to rise sharply.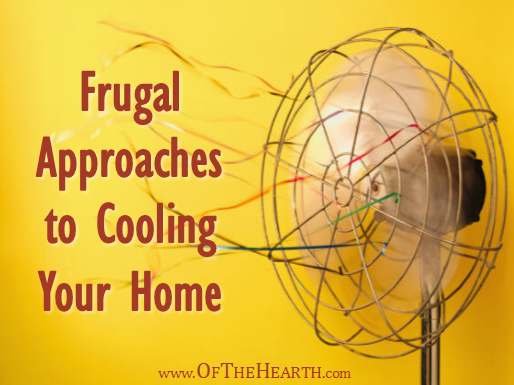 In my never-ceasing endeavor to save money, I'm investigating ways to minimize how much we spend on cooling our home.
How to save money when cooling your home
Several simple, common sense approaches can significantly decrease how much it costs to cool a home.
Perform routine HVAC maintenance and set the thermostat wisely
Clean or replace the HVAC filter(s).
Make sure vents are clean and not blocked.
Have the AC unit inspected by a professional.
Set the thermostat as high as comfortable.
Provide shade from the sun
Keep blinds and curtains closed in order to block the sun's heat.
Place houseplants (especially larger plants) in front of sun-exposed windows so they absorb some of the sun's energy.
Install awnings to shade windows from the sun.
Plant deciduous trees in locations where they will shade your house.
Create air movement
Use ceiling fans and standalone fans to create a breeze (just be sure to turn the fans off when you leave a room—the fans cool people, but not the air in a room).
If the temperature outside gets cooler overnight, open the windows. Create cross ventilation by drawing in air with a fan placed in a window on the side of the house receiving the wind and by drawing air out with a fan placed in a window on the opposite side of the house.
Take advantage of food and water
Avoid using the stove or oven to prepare meals.
Eat cold foods (e.g., fruits, salads, sandwiches, cold soups) instead of warm foods like chili or casseroles.
Drink cold water and snack on frozen treats.
Go swimming or play in the sprinklers.
Spritz yourself with water and stand in front of a fan.
Of course, some of these strategies are easier to implement than others and some will provide more financial benefit than others, so you'll have to pick and choose which will work best in your home. I've tried many of these. In fact, my husband would probably appreciate if I'd stop increasing the temperature on the thermostat! Using fans is the one strategy that has probably benefited us the most. Visit my sources (here and here) to learn more about saving on cooling costs.
Do you use any of these strategies to save money on cooling costs? What additional things do you do to keep cool without running up your electric bill?
Shared on the following link-ups:
Creativity Unleashed, Whatever Goes Wednesday, WholeHearted Wednesday, Works for Me Wednesday, One Project at a Time & Monday's Musings.