It's very difficult to avoid bisphenol A (BPA) if you eat any canned foods. This is especially true of tomatoes because their acidic nature limits what substances can be used to line the cans that contain them (you can read more about this here). After looking into the available options, my household has begun using BPA-free and non-GMO Pomi tomatoes.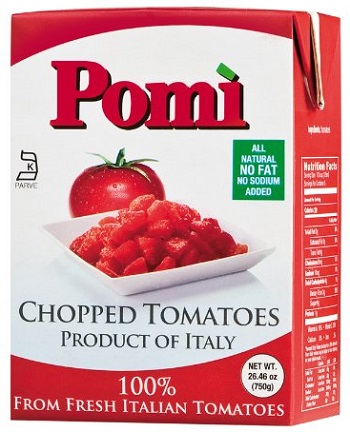 I've used Pomi brand chopped tomatoes and strained tomatoes. They are very flavorful (like fresh tomatoes harvested during the summer months) and are completely free of the slight metallic taste that canned tomatoes sometimes have. We've noticed that many of the recipes I use are more flavorful when prepared with these instead of canned varieties. The only ingredient in the Pomi cartons is tomatoes—they're not diluted or adulterated by any other ingredients.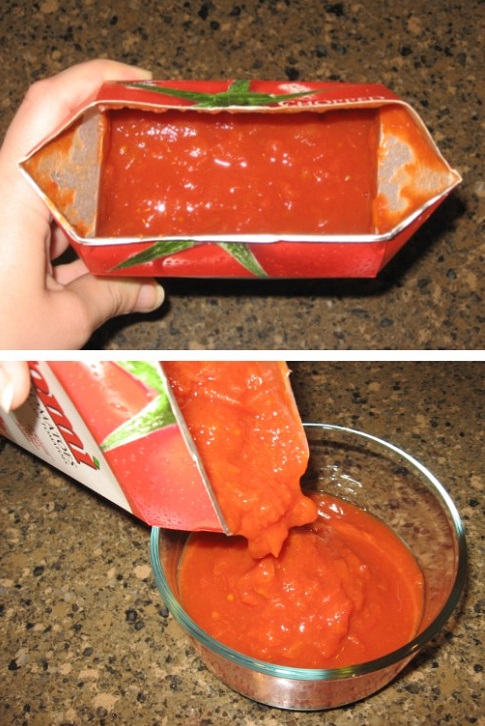 In addition to the wonderful flavor of the tomatoes, we love that they are GMO free, BPA free, and preservative free (including salt). Pomi tomatoes are packaged in SIG combibloc aseptic cartons (you can read about the cartons here). The cartons stack well and can be produced with up to 60% less CO2 emissions and fossil resources than glass jars and metal cans.
Are Pomi tomatoes perfect? Of course not. They are not locally grown, so even though the cartons can be produced in an environmentally-friendly manner, you have to factor in the energy required to transport them from Italy to the U.S. They're also not labeled as organic (though the company that grows Pomi tomatoes is widely cited as avoiding pesticides and herbicides on their tomatoes). The cartons are recyclable, but not all facilities are capable of recycling them (check with your local facility to see if they can process the cartons).
Pomi tomatoes cost a bit more than their canned counterparts (approximately $0.05 more per ounce than generic canned tomatoes). Despite my frugal tendencies, the quality of Pomi tomatoes and the fact that they are BPA free makes them well worth the additional cost. We've found them in a couple of local grocery stores, but we purchase them off Amazon because the stores don't always have them in stock and the price has been lower on Amazon.
Are you familiar with Pomi tomatoes? What's your opinion of them? What's your favorite brand of packaged tomatoes?
Shared on the following link-ups:
From House to Home, Thrive @ Home, Welcome Home Wednesday & Encourage One Another.