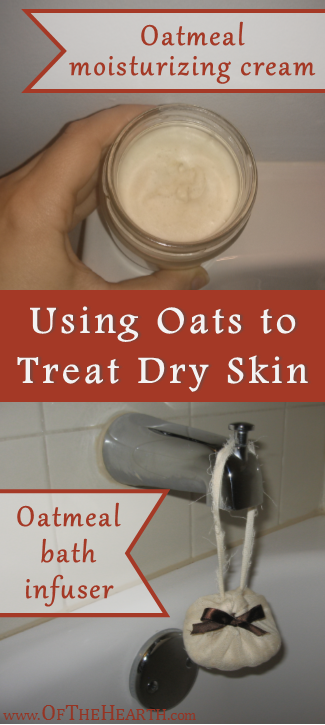 Now that the cold, dry air of winter has been present for several weeks, my skin has become very dry and itchy. Are you and your family members experiencing this, too?
I recently discovered the effectiveness of oatmeal at providing relief for my dry skin (especially for the patches of eczema that I have). Here's a look at the benefits of oatmeal and instructions for two simple homemade moisturizing products that I make to alleviate my dry, itchy skin.
Why oatmeal?
According to researchers, oatmeal contains several compounds that have moisturizing, anti-inflammatory, antioxidant, soothing, buffering, and cleansing properties. Oatmeal is usually ground into a fine powder and dispersed in a liquid before being applied to the skin (when prepared in this way it is referred to as colloidal oatmeal).
When colloidal oatmeal is spread on the skin, the small particles of oatmeal form an occlusive barrier. This barrier keeps moisture in (which alleviates dryness and itch) and blocks out external agents. Additionally, avenanthramides, substances in oatmeal that have antioxidant activity, have anti-inflammatory effects similar to hydrocortisone 1%. (I've listed my sources for this information at the bottom of the post.)
Homemade moisturizing products made with oatmeal
Unlike many medications and commercially produced lotions used to treat dry skin, oatmeal has low allergenic sensitization potential (i.e., it isn't likely to cause allergic reactions) and it's readily available and affordable.
Oatmeal moisturizing cream
-3/4 cup coconut oil
-1/4 cup oats
-5-10 drops lavender essential oil or another anti-inflammatory oil such as frankincense or thyme (optional)
-Small lidded jar
Instructions
Use a food processor or coffee grinder to finely grind the oats. Place the coconut oil in a small pan and heat it on the stove over low heat. Once the coconut oil has liquefied, turn off the heat and stir in the essential oil and oats. Continue to stir frequently as the cream begins to cool (this ensures the oats remain evenly distributed throughout the oil). Once it reaches a pudding-like consistency, pour it into a small jar. Allow it to cool completely before using.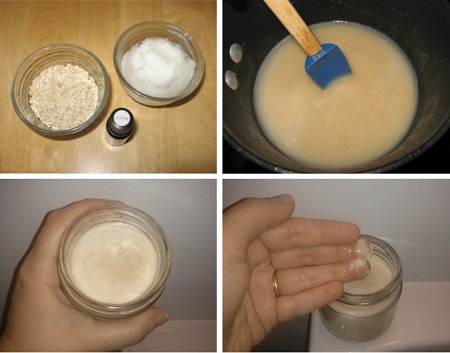 Notes
This cream is wonderful! It alleviates the burning itch of dry skin on contact and provides long-lasting moisture. The coconut oil liquefies when it comes in contact with body heat, so a little bit of the cream goes a long way. It's obviously an oil-based cream, so allow it to absorb before coming into contact with fabrics that might stain.
Oatmeal bath infuser
-9 x 9 inch square of cheesecloth
-1 x 18 inch strip of cheesecloth
-6 inch strip of decorative ribbon (optional)
-2/3 cup oats
-5 drops lavender essential oil or another anti-inflammatory oil (optional)
Instructions
Place the oats in the center of the square of cheesecloth. Sprinkle with 5 drops essential oil. Tie together the corners of the square so you create a bag. Secure the corners with the strip of cheesecloth, leaving a loop by which to hang the bag (see image below). Adorn with ribbon.

Hang the infuser on the bath faucet so water runs over it as you fill the tub (the water will turn a milky white color). Once you turn the water off, drop the infuser in the water and allow it to steep for the remainder of the bath. When finished with your bath, dispose of the oatmeal, but keep the cheesecloth—you can wash it and reuse it!
Notes
I love using an infuser to gently scrub my skin in lieu of a washcloth or bath pouf. The silky liquid it emits is very moisturizing and soothing. I love these so much that I am going to begin making them as gifts!
If you don't have time to make either of these but you want the benefits of oats, simply grind up oats (1/4 cup for infants and young children or 2/3 cup for older children and adults) and stir them into your bathwater. You can also purchase commercially prepared soothing bath treatments.
Do you use skincare products that contain oatmeal? Do they help you? What other things do you do to treat dry winter skin?
Sources: Criquet et al. (2012). Safety and efficacy of personal care products containing colloidal oatmeal. Clinical, Cosmetic and Investigational Dermatology, 5, 183–193. | Eichenfield et al. (2012). Colloidal oatmeal formulations as adjunct treatments in atopic dermatitis. Journal of Drugs in Dermatology, 11(7), 804-807. | Pazyar et al. (2012). Oatmeal in dermatology: A brief review. Indian Journal of Dermatology, Venereology, and Leprology, 78(2), 142-145.


Shared on the following link-ups:
Whatever Goes Wednesday, Works for Me Wednesday, One Project at a Time, Frugal Crafty Home, Motivation Monday, Best of the Weekend, Saturday Show & Tell, Frugal Days, Sustainable Ways, Creativity Unleashed & Anything Goes Linky.
Save
Save