I had some friends over a couple of weeks ago and, much to my embarrassment, I noticed halfway through our lunch that I had not served them anything to drink. I had a drink in front of me and my oldest daughter had one in front of her (I'd poured both earlier in the day), but I simply forgot to serve drinks to our guests.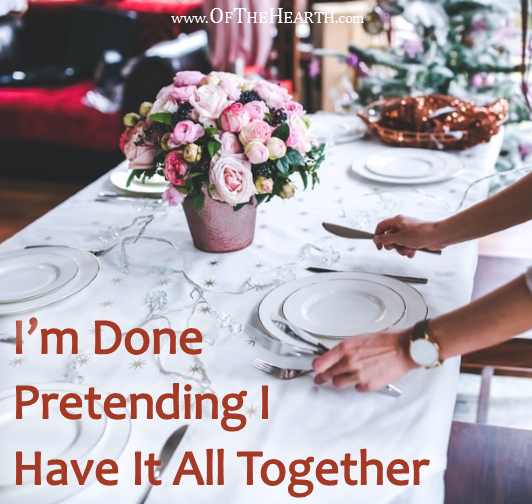 I felt terribly embarrassed. It wasn't until hours later that I thought about the incident and realized that I shouldn't have felt that embarrassed. I did, though, and it's the same embarrassment I feel when my toddler misbehaves in public and when someone drops by and my house isn't particularly clean.
From an objective viewpoint, none of these situations warrant embarrassment. I forgot to pour a glass of water or lemonade for my guests. That's pretty inconsequential. My toddler sometimes throws a fit when we're out and about. That's no big deal. My house isn't always spick and span. Oh well. Then it hit me: I feel so embarrassed about these things because of my pride.
Letting go of my pride
It stung a little bit to realize I was being prideful. After all, when I think of a prideful person, I think of someone who is cocky or who walks around thinking she is better than everyone else. That's not what I'm doing; I'm just trying to be a good mom, homemaker, and host. However, it's still pride that leaves me feeling embarrassed when I'm imperfect in these roles.
As I've been thinking through all of this, I've remembered that I shouldn't worry about what other people think of my efforts. I don't owe an accounting to guests in my home, to strangers at the grocery store, or ultimately even to my husband. I only owe an accounting to God.
This isn't a license to let my home become a disaster or let my children run wild. However, by identifying the source of my embarrassment as pride, I've been able to repent and stop pretending that I have it all together. I no longer have to invest precious time and effort into worrying about what you think of me. I'm able to invest this into pursuing the things to which God has called me.
I'm not called to be the hostess with the mostest, but I am called to practice hospitality and be loving towards my neighbors (1 Peter 4:9, Matthew 22:37-39). I'm not called to have perfectly behaved children (their human nature means they will misbehave no matter what I do), but I am called to diligently teach my children right from wrong (Proverbs 22:6). I'm not called to have a spotless house, but I am called to be faithful in whatever tasks are before me (Colossians 3:23, Luke 16:10), including housecleaning.
What about you? Next time you feel embarrassed because your clothes aren't as nice as another woman's or because your cake didn't turn out like a Pinterest pin, stop and ask yourself if your embarrassment is due to pride. Are you trying to please mankind instead of God? If so, then join me in acknowledging this pride and shifting your focus to the One whose opinion really matters. Doing so will remove a big burden from your shoulders (Matthew 11:28-30)!
In what areas are you struggling with pride? How are you working to overcome it?
Shared at the following:
The Art of Homemaking, Tuesday Talk, Faith Filled Wednesday, Shine Blog Hop, Grace and Truth, and Titus 2 Tuesday.
Save
Save
Save
Save
Save
Save
Save
Save
Save
Save