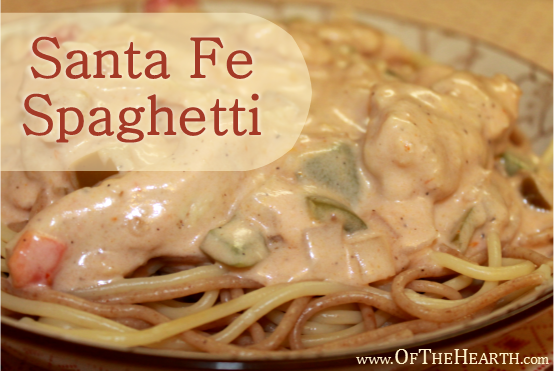 When I saw this recipe in a cookbook recently, I immediately wanted to give it a try. I'm glad I did! Though it uses ingredients that we typically have on hand, it has a very different flavor than the pasta dishes we usually consume.
Ingredients
(Significantly adapted from the Favorite Brand Name One-Dish Recipes cookbook.)
16 oz. spaghetti noodles
1 tablespoon olive oil
2 chicken breasts, cut into strips
2 cloves garlic, minced
1 teaspoon ground cumin
Several dashes salt and pepper
1 cup diced bell pepper (color of your choice)
1 medium onion, chopped
1 cup salsa or pico de gallo
½ cup sour cream
2 cups homemade Alfredo sauce or 1 jar (16 oz.) Alfredo sauce
Instructions
Prepare the spaghetti according to package directions.
Heat the oil in a large, deep skillet over medium-high heat. Add the chicken and garlic. Sprinkle with the cumin, salt, and pepper; stir-fry for 2 minutes. Add in the bell pepper, onion, and salsa. Cook over medium heat for 4 minutes. Reduce the heat to low and add the sour cream and Alfredo sauce. Simmer for 7-10 minutes or until the chicken is no longer pink in the center, stirring occasionally.
Drain the spaghetti and transfer it to serving plates. Top with the chicken mixture. Yield: 5 servings.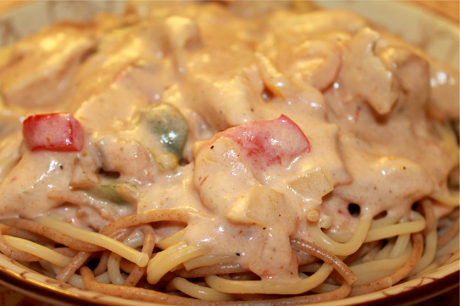 Notes
I would never have thought to combine Alfredo sauce with salsa, but the flavors—the mellowness of the Alfredo sauce and the spice of the salsa—complement one another so well! It's truly a unique flavor. It was spicy enough to please my husband's taste buds, but mild enough that my toddler enjoyed it.
The ingredients for this dish cost approximately $7.87, which is just $1.57 per serving. If you're looking to put something novel and flavorful on the table, give this dish a try!
Shared at the following link party:
The Art of Home-Making, Tuesdays with a Twist, Tuesday Talk, Weekend Potluck, Inspiration Spotlight, Creative Gallery, and Titus 2 Tuesday.