Vacations are supposed to provide an opportunity to relax and be refreshed. Unfortunately, they're often somewhat stressful.
For me, the stress can begin when it's time to pack. How many shirts will I need? Will I need a bathing suit or sunscreen? I don't want to forget my toothbrush or any other critical toiletry items.
Years ago my mother shared with me about how she uses a packing list. I've adopted this practice and it has really simplified my preparation for trips!
I have the list typed up on the computer, so it's easy to adapt to different scenarios. I'll simply add or delete items as needed for a particular trip. I've also included space to document tasks that need to be completed before leaving on a trip. Here are the categories I've included on my packing list:
To-do the week before leaving (do laundry, clean out fridge, water houseplants, etc.)
Clothing items (shirts, pants, socks, bathing suit, etc.)
Health and hygiene items (toothbrush and toothpaste, bath soap, medications, etc.)
Paperwork and money (reservation confirmations, maps, extra cash, etc.)
Miscellaneous items (cell phone and charger, umbrella, travel pillow, GPS, etc.)
To-do the day you leave (take out trash, put lamp on timer, reset thermostat, etc.)
Of course, the specific things you'd include on your list likely differ from mine, so here is a blank copy of the list that you are welcome to use.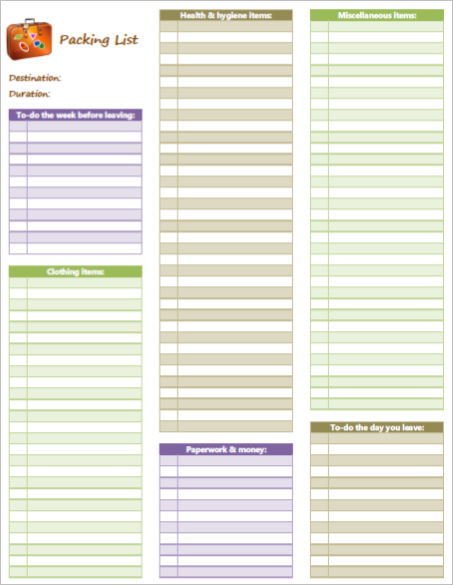 (An editable, MS Word version of the list can be accessed here: Blank Packing List for Adults.)
You'll notice that this list isn't really suitable for an entire family. Thus, I've created a version that contains categories that are more suitable for children. This list doesn't include the to-do or paperwork/money categories, but it does provide space to document items often needed by children, such as travel games, snacks, sippy cups, portable cribs, security blankets/stuffed animals, and strollers.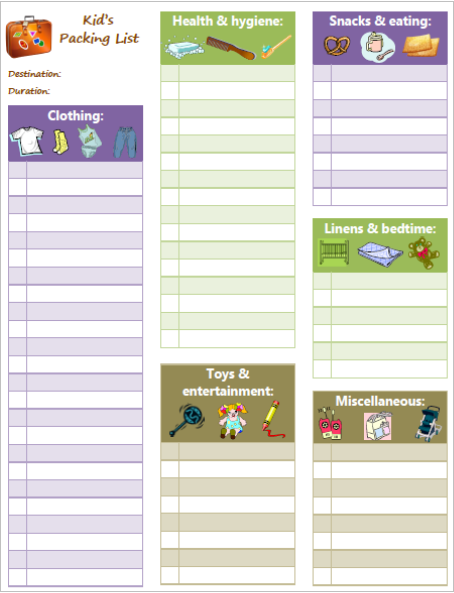 (An editable, MS Word version of the list can be accessed here: Blank Packing List for Kids.)
While these packing lists will not take all of the stress out of planning for a trip, they can certainly help reduce it. I hope you'll find them to be beneficial!
What things do you do to simplify the vacation packing process?
Shared on the following link-ups:
Summer Family Fun Party, Creativity Unleashed, Thrive @ Home, Whatever Goes Wednesday, Works for Me Wednesday, One Project at a Time, Titus 2 Tuesday, Homemade Tuesdays, & Monday's Musings.