Do you and your husband have "couple friends" (i.e., couples you and your spouse socialize with as a couple)? When was the last time you spent time with them?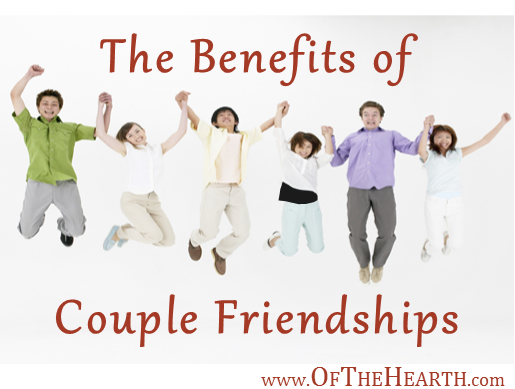 I've always appreciated the couple friendships my husband and I have. We enjoy hanging out with our couple friends and we share meaningful fellowship with them. I recently came across research that indicates fellowship is only one of many benefits provided by couple friendships. In fact, researchers believe that couple friendships are an important contributor to overall marital wellbeing.
How couple friendships benefit couples
Opportunities to look and act your best

. When you're spending time with your husband, especially if you're at home or if you have kiddos tagging along, you may choose to wear clothing that is more comfortable than flattering. Moreover, you may choose to do what is more comfortable (e.g., slouching in your chair, belching) than attractive. When you're spending time with friends, even if you have them over in your own home, you're more likely to take time with your appearance and check your behaviors. If your husband is anything like mine, he'll notice and appreciate the change.

Insight into marriage relationships in general and your marriage in particular

. Watching couple friends interact can deepen your understanding of the differences between men and women. You can observe how other couples encourage one another and how they communicate about differences. Your observations can act as a mirror, allowing you and your husband to see and understand your own interactions more clearly. (Observing other relationships can be risky because you may feel tempted to cast judgment or get caught up in comparison. These do not benefit you, so be sure to guard against them!)

Advice and assistance

. Couple friends often provide practical help. They can help you pack when you move, lend you cookbooks, and provide advice on home maintenance. Of course, friends who aren't couples can help in these ways, too. However, there are some situations where couple friends are better suited to help out. For example, they may be able to provide suggestions for splitting holiday time between your families and they may be willing to lend you that marriage book you've been wanting to read.

Camaraderie

. You can have wonderful friendships with individuals who face different situations than you face and who are in different stages of life. However, there are special senses of familiarity and solidarity that can develop with friends who share experiences in common with you. Given the number of experiences that are common to marriage relationships, it's natural to find these deep, meaningful friendships forming among couples.
I always want to spend time with couple friends because I enjoy the fellowship, but on occasion I hesitate when making plans because I wonder if there isn't something "more important" I need to see to. The knowledge of how couple friendships benefit marriage helps me put the significance of time spent with these friends in perspective.
How did you meet your couple friends? In what ways have these friendships benefited your marriage?
Shared on the following link-ups:
Motivation Monday, Shine Blog Hop, Wifey Wednesday, Coffee and Conversation, Wedded Wednesday, WholeHearted Wednesday, Monday's Musings, Works for Me Wednesday, Titus 2 Tuesday, Making Your Home Sing, Living Proverbs 31 & Titus 2sday.