I tend to be reflective on Martin Luther King, Jr. Day because it is Dr. King and other leaders like him who pioneered the changes that make my marriage possible. As many of you know, I am white and my husband is black. I'm often asked about our experience with interracial marriage. Did your family accept him? Did his family accept you? Is it hard being married to someone of a different race? Do people discriminate against you?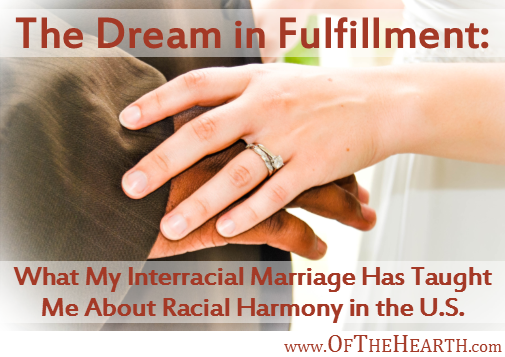 As I reflect on the answers to these questions, I realize that I've learned a number of things about racial harmony in the U.S. from my marriage.
1. Most Americans approve of interracial marriage.
My husband and I have never experienced discrimination. No one has spoken to us using racial slurs. We've never felt like people were shocked to see us together. People don't stare at us. I'm sure people notice we have different skin colors—it's hard to miss—but it doesn't seem to bother anyone.
If what I'm saying is true, then you might wonder why you've seen news stories about interracial couples and families that have been the recipients of hateful words and actions (see examples here and here). Unfortunately, these things do happen. As you've seen, they often make the news. Consider why these incidents are newsworthy. It's because they don't happen all the time. If every interracial couple was discriminated against on a daily basis and had racial slurs hurled at them several times each day, then these experiences would be normal—they wouldn't be salient enough to make the news. (If you've experienced these types of hateful words or actions, please know that I'm not trying to belittle your experience. The incidents shouldn't happen at all.)
In case you're curious, statistics verify that most Americans approve of interracial marriage. According to Gallup, 87% of Americans approve of black-white marriages.
2. News organizations are sensationalist, featuring stories that draw in readers or viewers.
Nearly every time I hear about race on the news it's in the context of conflict, crime, discrimination, or some other hateful action. There's a reason for this. News agencies need viewers and readers. Sensational accounts typically garner more attention than stories about strangers who help each other and neighbors who get along, which are the types of experiences we have every day.
As I noted above, negative incidents do happen sometimes. However, the news makes it seem like they happen constantly. In reality, individuals of various races get along every day, but this is a common occurrence so it's not newsworthy.
3. Emphasizing "racial" differences can create them.
When my husband and I go to the grocery store, he grabs a "buggy" but I grab a "cart." His family consumes sweet potato pie at Thanksgiving, but my family has never once served it. He is very careful to address others with "sir" and "ma'am," but this comes less naturally to me.
These differences aren't due to the fact that he's black and I'm white. They are due to his experience being raised in the South (mainly in North Florida) and my experience being raised in Colorado.
A lot of the purported differences between racial groups are rooted in socioeconomic status, developed environment, or religion (i.e., they're cultural differences, not racial differences). For example, if you compare a black individual from an urban location with a white individual from a suburban location, you'll likely see some significant differences. Many of these differences will not be due to race, but to the developed environment. You'd see the same differences when comparing an urban black to a suburban black or an urban white to a suburban white.
When we attribute these differences to race, we start assuming that people are one way or another simply due to their skin color. We begin generalizing and stereotyping. One thing leads to another and cultural differences that can be handled calmly and objectively become difficult to handle because they're racially charged.
4. Political correctness can inhibit authentic conversation and connection.
When we're worried that we may step on someone's toes, we often hold back and our conversations remain superficial. How can we really connect when we hold back out of fear of being labeled as racist or biased if we say something that's not politically correct?
In my home, we're far from politically correct. We're respectful, but we're candid. Subsequently, we have open, honest dialogue about race and other important topics.
I'm not suggesting that we should say offensive things just because we can. In fact, we should be speaking only in ways that build others up (Ephesians 4:29). However, I am suggesting that growing thicker skin might help us in forming authentic, deep connections with others.
Though my outlook is bright, I'm not pretending that racism doesn't exist in the U.S. It certainly does and I acknowledge and denounce it. This is why I used the term "in fulfillment" in the title of this post. Dr. King's dream hasn't been completely fulfilled, but it is being fulfilled. I'm hopeful given our nation's progress.
What things have you seen that show Dr. King's dream is in fulfillment?
Shared on the following link-ups:
Works for Me Wednesday, Titus 2 Tuesday, Growing Home, Titus 2sday, Tuesday Talk, and Living Proverbs 31.