My husband and I are familiar with the challenge of staying connected with family members who live far away. We live in Maryland but our families live in and around Florida and Colorado. We aren't able to travel to see our loved ones as often as we'd like, so we have to rely on other methods to stay in contact.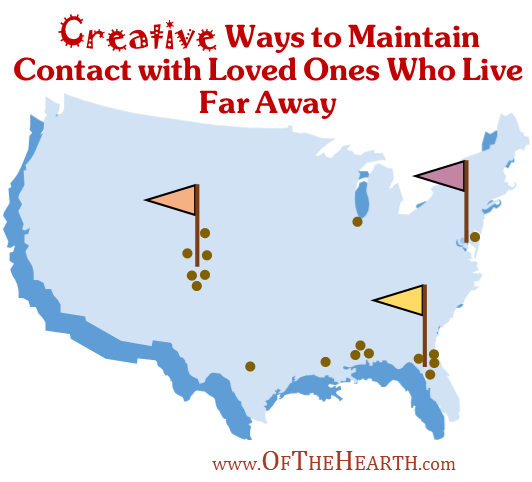 Phone calls and emails are obvious choices for maintaining contact. These are tried-and-true options; however, I don't always have time for lengthy phone conversations and emails sometimes feel impersonal. Subsequently, I've been searching for additional methods to maintain contact. I've found some great ideas.
Creative ways to maintain contact
Take advantage of video chat technologies

. Many video chat programs such as Skype are available for free. With the aid of webcams, these programs allow you to see your family members while talking with them. Seeing the faces of your loved ones can make your conversations much more dynamic! Moreover, you can be "present" at family gatherings. This last Christmas, we Skyped with loved ones on my husband's side of the family as they opened Christmas gifts. Though we were over 1,000 miles away, we were able to participate in this activity with them.

Share pictures

. Sharing pictures is nothing new, but modern technology allows us to take pictures spontaneously. Most cell phones are equipped with cameras. Photos taken with these cameras can be sent to loved ones via text message or, in many cases, via email. Sometimes I'll send my mom pictures of novel things I find at the grocery store. Last Monday I sent my mother-in-law a picture of my husband eating his barbeque supper. What's so outstanding about these pictures? Absolutely nothing. They just depict our routine activities. What's outstanding is the glimpse into our everyday lives that I'm able to share with our loved ones.

Complete a project together

. Just because you are in different locations doesn't mean you can't work together on a mutual project. Do you and your sister both enjoy embroidery? Why don't you work together to complete a new tablecloth and napkin set for your mom? You can each complete half the napkins. Both of you can also make contributions to the tablecloth, you'll just need to exchange it by mail in between the contributions. Another idea is to make a scrapbook together. You can each make some of the pages that will go into it. Some loved ones work crossword puzzles together by mailing them back and forth. Be creative—there are numerous possibilities!

Read a book together

. You and a loved one can each get a copy of the same book, read it, and discuss your impressions over the phone or while video chatting. You can also read different books in which you write your thoughts and insights into the margins. Once finished, you can exchange your books by mail and read each other's book, enjoying the "conversation" provided by the notes your loved one wrote in the margins.

Send letters and small doodads

. Handwritten letters are so rare these days that it's extra special to receive one! It's also special to receive little odds and ends that are meaningful to you. My mom sometimes sends me comics that she knows I'll find humorous. I once mailed a teabag that contained a new flavor of tea to my best friend (we would always drink tea together while studying during college). It feels wonderful to get these sorts of doodads because it means your loved one remembers the things that are important to you and that he or she is thinking about you. Next time you see a coupon for your brother's favorite granola bar, clip it and send it to him. When you see a flower that reminds you of your grandmother, carefully press it and mail it to her in a card. These gestures are simple, but they're very meaningful.

Create a family blog

. Most blog websites (wordpress.com, blogger.com, etc.) allow the creation of blogs with multiple contributors. You could create a family blog on one of these sites and provide each member of your family with a username and password that allows him or her to make posts to the collective blog. Many of these sites allow privacy settings to be customized, which can help keep the family blog private. Some sites, such as familylobby.com, cater specifically to families who are setting up websites. What a creative way to share stories, pictures, recipes, and more!
Do any of these ideas sound like they'd help you maintain contact with your family members who live far away? What additional suggestions do you have?
Shared on the following link-ups:
Works for Me Wednesday, Titus 2sday, Titus 2 Tuesday, Living Proverbs 31, Making Your Home Sing & Motivation Monday.