Cloth diapering an exclusively breastfed infant is really easy. Once a baby starts complimentary foods, though, it becomes a little challenging!
This is because diapers covered in soft, water-soluble breast milk poop can go straight into the wash without any special preparation. However, the bulkier poop associated with solid foods must be removed from diapers before they go in the washer.
A diaper sprayer is a common tool used to accomplish this (we use this one). These attach to the toilet and allow parents to spray off the poop. This sounds simple, but if you've ever tried it, you know that it can be a pretty messy task. Some companies sell splatter shields to help make this task tidy, but I'm frugal so I searched and found this tutorial for how to make a DIY version. I modified the idea a bit but it still only cost a few dollars to make and it works incredibly well!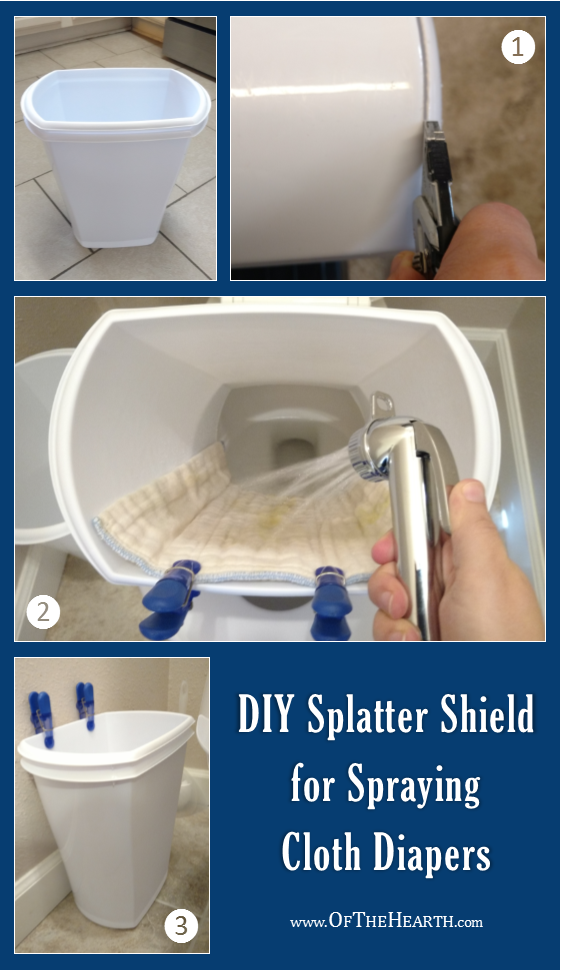 Supplies
2 small plastic trashcans (it is best if they are identical or at least similar in shape)
2 bag clips or clothes pins
A sharp utility knife or hacksaw
Instructions
Use the utility knife or hacksaw to carefully cut the bottom off of one of the trash cans.
Use the clips to secure a soiled diaper to one side of the bottomless trash can. Place over a toilet and use a diaper sprayer to remove the poop from the diaper.
Remove the diaper and place the bottomless trashcan into the intact trashcan for tidy storage. This prevents any water or poop remnants from getting on the floor!
How easy is that?
I'm so glad I made one of these. It makes it much easier to rinse the poop out of diapers! In fact, I really wish I would have come across this idea when my firstborn was an infant. The supplies to make this shield cost less than $5. It's worth every penny!
What have you found to be the most effective way to get poop off of diapers? Please share your tips with us!


Shared at the following:
Coffee and Conversation, The Art of Home-Making, Tuesday Talk, Party in Your PJs, Over The Moon, and Think Tank Thursday.
Save
Save
Save
Save
Save
Save
Save
Save
Save
Save
Save
Save
Save
Save