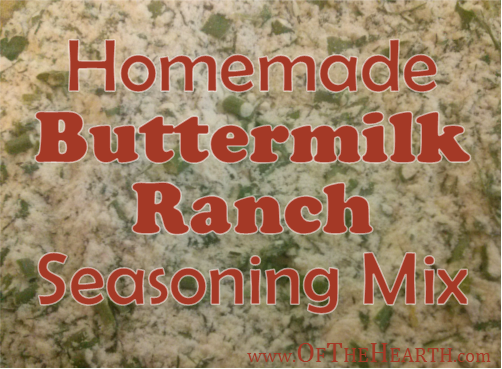 Do you love ranch mix but hate monosodium glutamate (MSG)? Or perhaps you're not sure you want to eat a mix that has maltodextrin (a food additive derived from starch) as a first ingredient?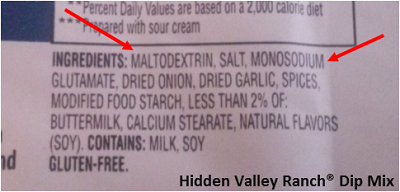 If this describes you, then get excited: It is super easy to make ranch seasoning mix from scratch! I played around with a couple of recipes I found online until I came up with a mixture I thought was optimal.
Ingredients
1/3 cup dry buttermilk
2 tablespoons dried parsley flakes
2 teaspoons garlic powder
2 teaspoons onion powder
1 1/2 teaspoons dried snipped chives
1 teaspoon dried dill weed
1 teaspoon ground black pepper
1 teaspoon salt
1 dash of celery seed
Instructions
Combine all of the ingredients in a food processor and pulse them until finely ground. If you don't have a food processor, you can combine them in a small bowl and whisk them together. Store in an airtight container. Yield: 2/3 cup mix.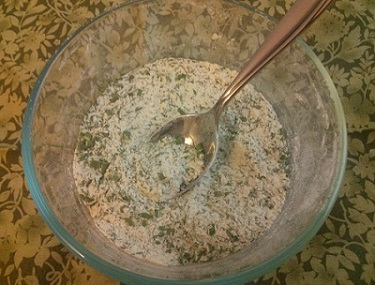 To make ranch dip, stir 3 tablespoons of the mix into 16 ounces sour cream. To make ranch dressing, stir together 1 tablespoon of the mix, 1/3 cup Greek yogurt, and 1/3 cup milk. (You can substitute mayonnaise for the Greek yogurt if you prefer.) The dry mix can be used for things like adding flavor to soups, breading chicken, or seasoning popcorn.
Do you make any of your own mixes? Which are your favorites?
Shared on the following link-ups:
Seasoning and Spice Pantry Link Up, Monday Musings, T.G.I.F., From House to Home, Thrive @ Home, WholeHearted Wednesday & Wise Woman.
Save
Save