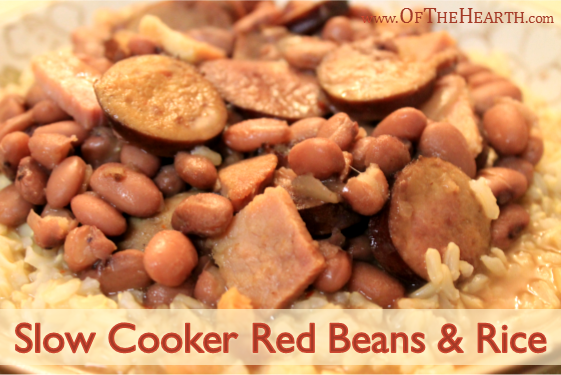 As I noted when I shared my menu for this spring, I've tried to focus on easy-to-prepare dishes. My husband loves Louisiana Creole and Cajun dishes, so when I saw that this one is prepared in a slow cooker I knew we had to try it.
Ingredients
Adapted from the Favorite Brand Name One-Dish Recipes cookbook.
2 cups dried red beans
1 pound beef sausage, sliced
1-1 ½ cups cubed ham
1 medium onion, chopped
3 cups water
A few dashes red pepper flakes
1 ½ teaspoons adobo seasoning
Prepared rice
Instructions
Soak the beans in water overnight. Discard the soaking water and rinse the beans. Place in the bottom of a slow cooker. Add the sausage, ham, onion, water, red pepper, and adobo seasoning.
Cover and cook on HIGH for 3-4 hours or on LOW for 7-8 hours. Serve over rice. Yield: 4 servings.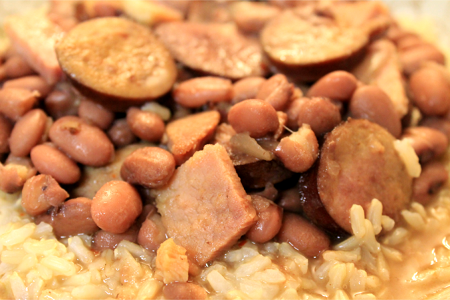 Notes
I love how easy it is to prepare this recipe! The slow cooker really simplifies things. The cook times indicated above are those from the original recipe. In my slow cooker, it only takes about 6 1/2 hours on LOW to cook the beans until they are perfectly tender. This dish has a wonderful savory flavor, but it is not particularly spicy. I may experiment with additional seasonings in the future in order to add a little spice to it. At some point I will also try adding some veggies (bell pepper, celery, etc.). For now, though, I'm appreciating the simplicity of the recipe!
In addition to being tasty and convenient, this dish is very affordable. The ingredients cost about $6.22, which is just $1.56 per serving. This is one dish we will definitely make again and again!
What dishes have you prepared in a slow cooker lately?
Shared at the following link parties:
Coffee and Conversation, Think Tank Thursday, Funtastic Friday, Inspiration Spotlight, Weekend Potluck, Small Victories Sunday, Handmade Tuesdays, Tuesdays with a Twist, What's for Dinner?, Home and Garden Thursday, and Healthy Living.
Save