If you've read many of my posts, you may have realized that I enjoy making lists. When I have a lot to get done, to-do lists are one of my favorite ways to tackle the tasks before me.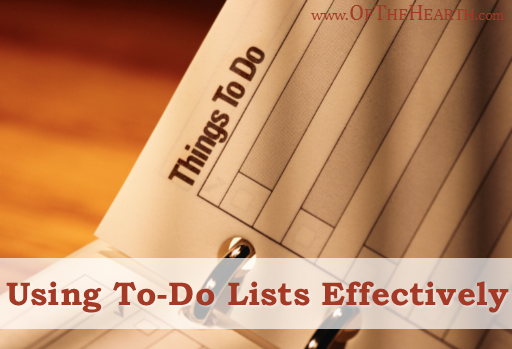 I wasn't very productive during the early months of my pregnancy, so now I have quite a bit to get done. As I've been making to-do lists, I've realized that there are many pitfalls associated with them. How can these pitfalls be avoided? Here are the things I'm doing to make sure I use my to-do lists effectively.
Tips for using to-do lists effectively
Avoid spending too much time making a list.

Sometimes I'll take 15 minutes or longer to list out the tasks I need to complete and to map out the steps I need to take to complete them. By the time I finish making the list, I could have actually completed a task on it! I'm learning to limit how much time I take in writing out a list so I can move on to the tasks.

Keep the right priorities.

Regardless of how busy I get, my priorities should always stay the same: God, family, and then everything else. It's tempting to skip my devotional time in the mornings or compromise quality time with my husband when I have a lot to get done, but this is actually counterproductive. These activities form a solid foundation for completing other tasks.

Tackle one task at a time.

I'll often attempt to complete numerous tasks at once in order to get more done. Unfortunately, this leaves my focus divided so I'm actually less productive—I may not complete any of the tasks! If I buckle down and focus on one task at a time, I'll actually accomplish more.

Be willing to change my focus when it's not working.

When I do focus in on one task, sometimes I'll find myself getting nowhere. Sometimes I'll be missing something I need to complete the task; other times I'll just get mentally stuck and will not be able to concentrate. When this happens, it can be a good idea to stop what I'm doing and try a different task. Though this means I will not complete the initial task, at least I stand a chance of getting another task done.

Reward myself.

I sometimes find it helpful to give myself little rewards when I finish a task. Sometimes simply crossing an item off my list is sufficient reward, but other times I'll allow myself a snack or a small break. Even though these are very small rewards, they can be strong motivators.
What things do you do to make sure you accomplish the tasks on your to-do lists?
Shared on the following link-ups:
Thriving Thursday, One Project at a Time & Monday's Musings.