Back during my first pregnancy, I didn't realize just how much my fingers would swell. They became so puffy that I thought we were going to have to cut off my wedding band!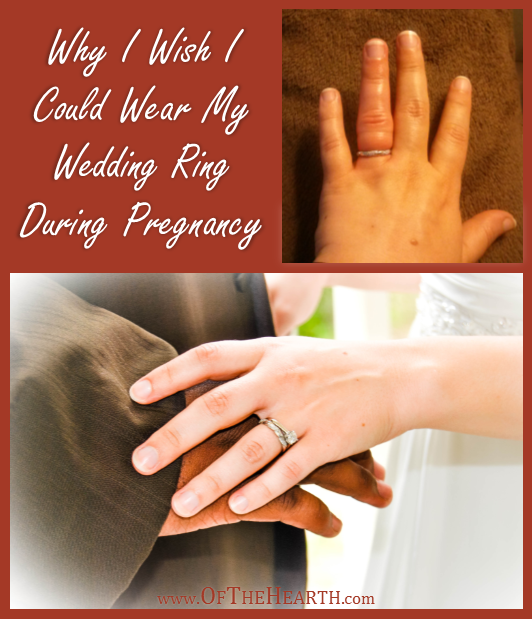 After a lot of work and pain, we were able to get my ring off intact. Though it was best that it was no longer constricting my finger, I sure loathed going without it. Now I'm pregnant again and I'll soon remove my ring to avoid the painful struggle I had last time. Though I know this is best, I remain hesitant to remove my ring.
The ring isn't what makes me married, so why does it matter so much to me?
Why my wedding ring matters
In a time when marriage is widely regarded as one lifestyle choice among many, I'm pleased to wear a ring that symbolizes my status as a married woman. It proclaims to the world that I've chosen a lifelong covenant with one man, not casual hookups or serial live-in boyfriends. Additionally, any man who sees my left hand knows that I am "off the market."
My ring doesn't just communicate my status to others—it communicates it to me, reminding me of my commitment to my husband. When I see or feel it on my finger, I'm reminded that I'm not free to look with interest at other men or to engage in interactions that could lead to a physical or emotional affair.
To be honest, I've never been tempted to be unfaithful to my husband, but I am sometimes tempted to make decisions on my own that we should make together or to put my own needs and preferences above his. When this happens, a quick glance at my ring reminds me that we're a unit (Genesis 2:24); everything I do impacts both of us.
Do you wear a wedding ring?
I'm not saying that you are right or wrong to choose to wear a wedding ring. Wedding rings aren't common in some cultures. Individuals in certain lines of work (e.g., medicine, manual labor) often need to avoid wearing rings. Others are allergic to the metals that are typically used to form rings. Others interpret various Bible verses to mean that rings aren't appropriate. I even know two spouses who don't have money for jewelry—even simple rings—so they don't have weddings rings!
There's nothing wrong with avoiding rings for any of these reasons. As I said earlier, a ring doesn't make you married. Ultimately, you and your spouse must decide what is right for your marriage. Because of the factors I've described above, my husband and I always wear our rings (unless, of course, I'm pregnant or one of our rings is in getting repaired or resized).
Do you and your spouse wear wedding rings? Why or why not? How did you decide?
Shared at the following link parties:
Weekend Wind Down, WholeHearted Wednesday, Wedded Wednesday, Tuesday Talk, Titus 2sday, Titus 2 Tuesday, Monday's Musings and The Art of Home-Making.