Given that we often pack our summers with vacations, yard projects, and camping trips, it can be difficult to find time to get together and hang out with friends.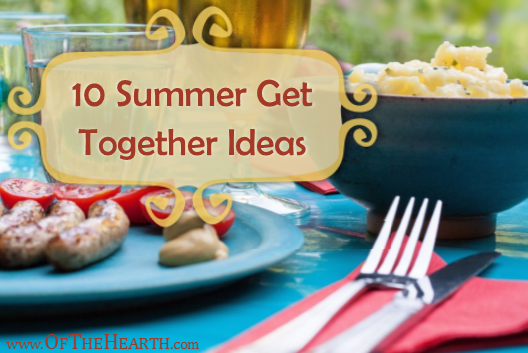 It's so important that we fellowship with our friends, though, so we shouldn't put socializing on hold until the busy summer months have passed. Fortunately, there are a variety of fun, convenient activities we can share with our friends during the summer.
Summer get together ideas
Host an ice cream social.

Ice cream is the perfect complement for summer, so why not socialize with your friends while consuming this cold, creamy treat? Ice cream socials can be as simple or elaborate as you'd like. Purchase gallons of ice cream at the store or make your own. Have a few toppings available or provide a lavish spread. Make banana splits or simple sundaes. Whatever you eat, be sure to kick back, relax, and visit with all those in attendance.

Throw an outdoor game tournament.

Did you ever play ladder ball when you were a kid? Or what about horseshoes, kickball, badminton, or croquet? These outdoor games aren't just for kids—they are fun for adults, too! Set up a few of these games in your yard and gather your friends for a tournament. Adults and kids alike can participate.

Go on a picnic.

Pack a basket of finger foods, grab a blanket, and head to a nearby park for a picnic. You'll have plenty of time to visit while you eat and if you'd like to do something active when you're done, you can toss around a Frisbee or fly a kite. If you have active kiddos, then consider selecting a park with a playground for them to enjoy.

Get frozen yogurt or ice cream.

If you like the ice cream social idea described above but you don't have time to plan one, then consider going with friends to an ice cream or frozen yogurt shop. This activity is relatively affordable. Moreover, it doesn't take extensive planning so you can do it on the spur of the moment.

Go on a joint vacation or camping trip.

If you'll be going on a vacation or camping trip anyway, then why not take your friends with you? Select a location you all enjoy and see if you can save some money on travel and accommodations because you'll have a group.

Host a barbecue.

Fire up your grill and enjoy some barbecue with your friends. Keep it simple by grilling hamburgers and hotdogs or try something new, such as grilled pizza, kebabs, or jalapeno poppers. If you don't have a lot of time or money to invest in preparing food, then have a potluck—have all of your friends bring their favorite dishes to share with the group.

Attend a baseball game.

Get your hands on some affordable tickets and attend a baseball game or similar athletic event. Though it will depend on the sport and the venue, the "cheap seats" are sometimes uncrowded, allowing you some space to yourselves so you can catch up during the game.

Play a round (or several) of mini golf.

Find an outdoor course and engage in some friendly competition as you play mini golf with your buddies. The pace of mini golf provides plenty of time to socialize, it's generally an affordable activity, and it is family friendly.

Throw a pool party.

If you have your own pool or access to a community pool, then throw a pool party! Play some pool games (Marco Polo, sharks and minnows, cannon ball contests, etc.) and eat refreshing foods (popsicles, sliced fruit, etc.). If there's a sandbox nearby, then consider having a sandcastle building contest. Don't have access to a pool? Have a water balloon or water gun fight instead!

Attend local community activities.

Are there fun activities that go on in your community during the summer? Farmers markets? Parades? Fairs? Movies in the park? Call some friends and get together to take advantage of these fun events. Many are family friendly and affordable. Grab a meal before or after attending one of these activities in order to spend additional time together.
What ideas can you add? What are your favorite things to do with friends during the summer?
Shared on the following link-ups:
Summer Family Fun Party, Weekend Wind Down, Shine Blog Hop, Hope in Every Season, WholeHearted Wednesday, Coffee and Conversation, Titus 2 Tuesday, Monday's Musings & The Art of Home-Making.