Moms are busy. It doesn't matter how many children they have, if their kids are young or grown, or if they work or stay at home.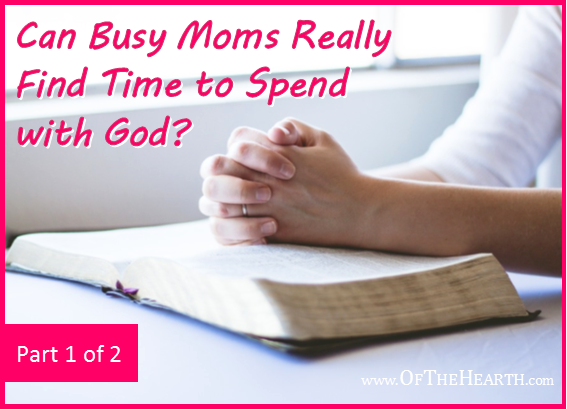 Given this reality, is it really possible for moms to find time to spend with God? I first considered this question a couple of years ago when I was struggling to find time to spend with the Lord while adjusting to life with my firstborn. A couple of years have passed and I've had a second child, but I still find myself asking this question on occasion!
I consistently find that the answer to this question is simple: Yes, it is possible for busy moms to find time to spend with God. What we really need to consider is how. How can busy moms find time to spend with God?
There are a lot of ways to answer this question, and today you are in for a real treat! You are going to hear from three different moms—Elizabeth of Guilty Chocoholic Mama, Michele of Living Our Days, and me—about how we find time to spend with the Lord. Elizabeth is mom to two teenage girls, Michele is mom to four boys who are in their teen and young adult years, and I'm mom to two young girls (a 1-year-old and a 2-year-old). I hope that our varied perspectives encourage you and give you some useful ideas!
How do you find time to spend with the Lord?
Elizabeth: If I, as a busy mom of two even busier children, waited until I had an uninterrupted hour each day when I could sit quietly and focus entirely on spending time with God, I wouldn't have spent time with God since the '90s. I believe God honors a mom's desire to meet with Him, learn about Him, study His Word, memorize Scripture, mediate on His truths, worship Him, pray to Him, and draw near to Him–even if those things happen in 5-minute bursts spread throughout a day. A typical day with God for me includes:
Starting my daily prayer P.A.T.H. (praise God, acknowledge my sin, thank Him, ask for help for myself and others) the minute my feet hit the floor. While I make the bed first thing, I pray that Jesus will cover each member of my little family and all the places they are during the day. Then I put that P.A.T.H. on hold while I go downstairs to start breakfast and lunches.
Reading a one-page daily devotional while I brush my teeth. 🙂 Spiritual and dental health, all in one.
Continuing and finishing my prayer P.A.T.H. after my girls leave for school, while I do my daily fitness walk. We live on a quiet country road, so I always pray out loud. The enemy can't read our minds, so I believe prayer is more effective against Him when verbalized.
Memorizing scripture while I finish my walk.
Praying throughout the day. I have teenagers. They are in public school. One of them drives. I pray constantly.
Listening to worship music in the van when I'm transporting the teenager who doesn't drive to and from school, to and from dance, to and from drum line practice, to and from…
Doing personal Bible study in the evening when my girls are at dance.
Michele: As the mum of four active boys, one day it became clear to me that it was time to swap my beautiful basket where I kept all the "needful things" for a flourishing devotional life for the practicality of a sturdy tote bag, packed and ready at all times. More and more, I found that I was meeting with the Lord on the fly. I had a decision to make:  I could lament this homeschooling, baseball playing, piano-and-band-practicing family that God had given to me and use them as an excuse to let my spiritual formation go on mothballs. Or I could develop a carpe deum, seize-the-moment strategy for making good use of little minutes that might otherwise be wasted.
Shannon: The only way that I've found to consistently spend time with the Lord is to get up early in the morning before my girls wake up. This is really difficult because I'm often tired, but I've found that it is worth it. Another thing I struggle to find time for is exercise. Thankfully, I've discovered that I can read my Bible and pray while riding our exercise bike. Doing this is really helpful because riding the bike helps me stay alert and I'm able to "kill two birds with one stone." Even though I'm getting up early, I still don't have as much time available as I did before I became a mom. Subsequently, I try to do little things throughout the day to supplement the time I spend with the Lord in the morning. For example, I post a copy of the Scripture verses I'm memorizing on the outside of the glass enclosure to our shower. This way I can memorize the verses while I shower.
Stay tuned…
I love hearing how other moms find time to spend with the Lord. Thanks for sharing your ideas, Elizabeth and Michele! I think I will soon find myself using some of the approaches you've described.
Though these insights are helpful, you might be wondering how a mom's devotional time changes through the various seasons of motherhood and what practical tools are helpful for facilitating time with the Lord. The three of us will be exploring these topics next week, so be sure to come back and join us!
How do you, as a busy mom, find time to spend with God?
Shared at the following:
Monday's Musings, Tuesday Talk, AIM Link Party, Coffee and Conversation, Grace and Truth, and The Art of Homemaking.
Save
Save
Save
Save
Save
Save
Save
Save
Save
Save
Save
Save
Save