A couple of weeks ago my husband started a new job. Instead of seeing him off on his first day with a kiss and an encouraging word, I was asleep in bed.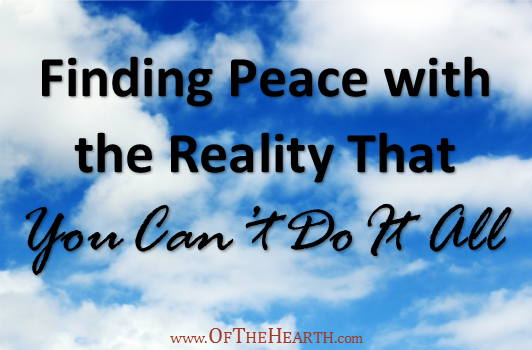 I felt awful when I woke up and realized I had slept through his departure! My 9-month-old daughter was going through a rough phase where she was waking about every two hours. Having been up with her several times, I was tired and slept through my alarm.
As I plodded through that morning, I mentally reminded myself of a reality that we must all accept: I can't do it all.
I want to be a faithful follower of Jesus, a devoted wife, a loving mother, and a caring friend. My Type A personality drives me to do these things with excellence. Unfortunately, no human has enough time and energy to be perfect at all these things. Eventually something must give. That's what happened when I slept through my husband's departure on the first day of his new job.
I can't do it all. I felt immediate peace on that morning as I repeated those words to myself. I remembered that God sees me and loves me (Psalm 121:5, Isaiah 43:2). He has plans for me and my family, and these plans won't be derailed because of my limitations (Proverbs 19:21). In fact, He may be using these very limitations to form me, my husband, and my daughter into the people He wants us to be (James 1:2-4).
In letting go of my drive to be flawless in my roles, I surrendered myself to the larger purposes that God is working in my life. I found peace. I found freedom. I found God's grace and was in turn more gracious with my family and friends.
If you are facing numerous roles and their corresponding tasks, then I encourage you to find peace with the fact that you can't do it all. God sees you. He loves you. He has grace for you to accomplish the truly important things. Regardless of your capabilities, He is carrying out his purposes in your life.
Let's surrender our expectations of ourselves and trust the Lord to direct our efforts.
Shared on the following link-ups:
Faith Filled Wednesday, Coffee and Conversation, Titus 2sday, Titus 2 Tuesday, Making Your Home Sing, Saturday Soiree, Weekend Wind Down, Faith and Fellowship Blog Hop and Shine Blog Hop.