Earlier this summer I had an abundance of Roma tomatoes from my vegetable garden. I decided to make spaghetti sauce with them. I don't have the equipment to can spaghetti sauce, so I found a simple recipe for freezer spaghetti sauce.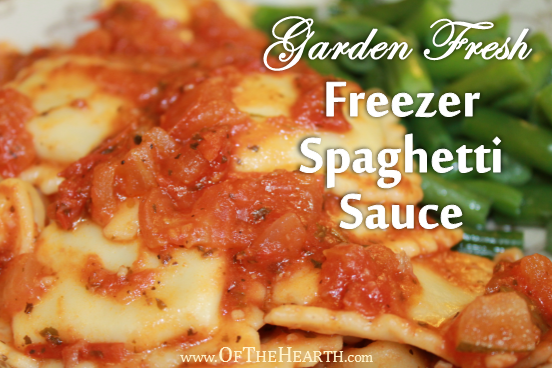 I will forever remember making this sauce for two reasons. First, my husband was somewhat doubtful it would come out well, but he ended up being very pleased with the results. Second, I was pregnant with my second child when I made the sauce, but my water broke at 2:00am on the morning after I made it. Thus, I joking refer to it as "labor-inducing spaghetti sauce."
Whether you're trying to put yourself into labor or not, this sauce is very easy to make and has a great flavor!
Ingredients
(Adapted from this recipe.)
2 large onions, chopped
6 cloves garlic, minced
1 green bell pepper, chopped
1 zucchini, chopped
1/2 cup olive oil
18 cups chopped Roma tomatoes (around 60-70 tomatoes)
1 (12 ounce) can tomato paste
2 tablespoons dried oregano
2 tablespoons dried basil
1/4 cup parsley flakes
1/4 cup white sugar
2 tablespoons salt
1 tablespoon ground black pepper
Several dashes crushed red pepper
Instructions
In a stockpot, sauté the onion, garlic, pepper, and zucchini in the olive oil. Cook until the onion is transparent and the other veggies are tender.
Add the chopped tomatoes, tomato paste, oregano, basil, parsley, sugar, salt, black pepper, and red pepper. Cook for 2 to 3 hours on low heat, stirring occasionally.
Let the sauce cool. Pour it into quart size freezer containers. For the best quality, use within 3 months of freezing. Yield: About 16 cups spaghetti sauce.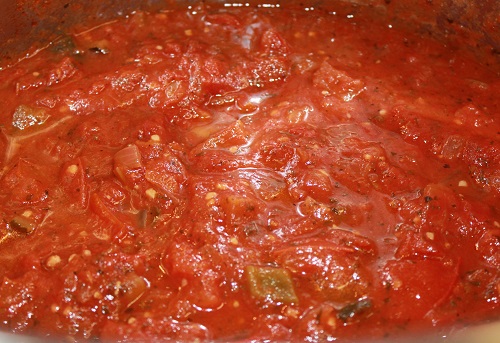 Notes
It takes a lot of chopping to prepare this sauce, but you end up with enough flavorful spaghetti sauce for several meals. It tastes much fresher than anything you can get out of a jar purchased at the store! We really enjoyed the flavor, but it is pretty basic. Feel free to jazz it up with cheeses or additional veggies and herbs.
I was uncertain how this would turn out given you do not peel the tomatoes, but we didn't really notice. This is likely because the sauce contains other chopped veggies. We did feel the sauce was a bit thin, so I will add additional tomato paste when I make it again…which I will do as soon as I have another large quantity of tomatoes!
Shared at the following:
Monday's Musings, Tuesdays with a Twist, Coffee and Conversation, Weekend Potluck, Share the Wealth, and The Art of Homemaking.
Save
Save
Save
Save
Save
Save
Save
Save
Save